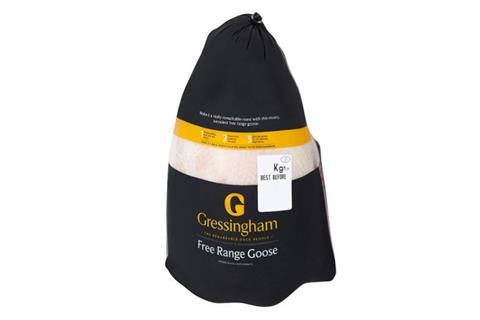 Gressingham has launched a new branded range of whole geese in anticipation of Covid restrictions leading to smaller family gatherings at Christmas.
Once a staple of festive dinners, goose has lost out to turkey over the past 100 years. But thanks to the bird's smaller size and the likelihood of a further tightening of coronavirus rules, it looks set for a comeback.
Gressingham's new range of fresh whole birds will come in three weighted variants – 3kg-5kg, 5kg-6kg and 6kg – and will be available in the big four and Ocado.
The poultry brand said it had already seen heightened interest from retailers for the meat, with a 10% increase in year-on-year demand suggesting it would be sought-after at Christmas.
"Our goose serves six so it is the perfect size for a small family," said Gressingham brand manager Rebecca Alderton.
"We believe Christmas occasions overall will be higher this year and there will also be more people in the UK due to the quarantine restrictions. There is also evidence to suggest that after a miserable year for many, people will be trading up to try to make Christmas extra special and make the most of small gatherings at home."
As The Grocer revealed in August, most of the five million Brits who jetted off abroad over the festive period in 2019 are likely to remain in the UK this year, which could lead to a dramatic rise in meal occasions.
Gressingham's launch comes as Mintec anticipated prices for larger turkeys would be weaker this Christmas, with demand for smaller birds set to be "strong".
The analytics firm said some turkey producers also feared a surplus of birds, particularly larger turkeys, on the market towards the end of 2020 due to smaller-than-usual gatherings.
Mintec data showed UK turkey producers had reduced production by between 15-20% but that there were 6.2 million turkeys on farms between January and June, a rise of 2% against the same period last year.
Meanwhile, Kantar has spied an opportunity for frozen as elderly or vulnerable consumers may once again find themselves shielding in the coming weeks.
"Smaller, more intimate Christmas eating occasions await us this year as it stands, so planning purchases is likely to be key for many especially older shoppers," said strategic insight director at Kantar, Andy Crossan.
"This could present more opportunities for frozen meats to play a role in saving shoppers from having to go in store late in the Christmas season."