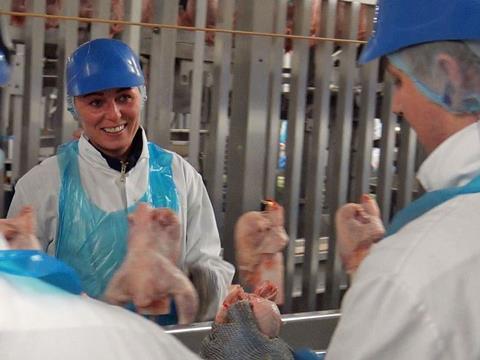 Just over nine months after it became synonymous with the word 'scandal', poultry giant 2 Sisters Food Group yesterday achieved an altogether more pleasant milestone – when the FSA confirmed it was no longer in emergency measures.
The poultry giant and its owner Ranjit Singh have been buffeted by turbulence ever since The Guardian and ITV exposed its alleged food safety breaches at the end of last September.
The litany of adverse publicity that followed led the company's retail partners to temporarily cut ties with its offending West Bromwich plant. And as the business teetered, Singh faced a chastening grilling by the Commons Efra Committee in October, where he admitted it was "time to change".
But after months of the company's name being dragged through the mud (and a major overhaul of the business) the FSA's confirmation its full-time presence in all 2 Sisters cutting plants was "no longer required" will be music to the ears of the 'Chicken King' and his newly appointed CEO Ronald Kers.
"On this basis cutting plant supervision stopped at the end of April and we have moved to unannounced inspections in all the cutting plants on a regular basis," said FSA chief executive Jason Feeney in a letter to the Commons Efra Committee published yesterday.
So what has 2 Sisters done to get out of the mess it was in?
From enrolling staff on a series of new training courses, to voluntarily paying for FSA inspectors at all its cutting plants and installing CCTV throughout, it's clear the company has done a lot to rebuild the trust of its customers. And let's be clear, in an industry where a loss of customer confidence can be terminal, it needed to.
Selling off or closing a host of non-core and underperforming parts of the business will have also boosted confidence in the company. But it seems the FSA was most impressed with 2 Sisters' unilateral decision in December to become the first British poultry processor to publish the results of every audit undertaken at its factories.
This stemmed from the Efra Committee's skewering of not only 2 Sisters, but also the FSA, the British Poultry Council, Red Tractor and BRC Global Standards for the way they failed to hold companies to account through an easy to game "patchwork" regulatory and accreditation system.
Processors could, for example, simply opt out of unannounced factory audits. Even if they opted in, they would be given 30 minutes' notice.
And if that wasn't enough, there was no way for the FSA to acquire audit data due to that age-old cop out: data protection regulations. So even if it wanted to know more about what was going on in the sector's factories, its hands were inevitably tied.
Both BRC Global Standards and Red Tractor have now tightened their accreditation rules on issues including making unannounced site visits mandatory.
And so taken was the FSA with 2 Sisters' decision to share all its audit data that it has now got into bed with the once reticent supplier for a trial it says could provide the "template" for information sharing across the poultry sector.
The 2 Sisters Intelligence Sharing Group sees 2 Sisters staff present relevant audit and KPI data to senior FSA executives on a regular basis. The supplier stresses "no one gets anywhere near us – either inside or outside our sector – on this level of transparency".
Indeed, Feeney says the information used in this trial, which also includes initiatives such as 2 Sisters' new mystery worker scheme, "goes beyond audit to give a more rounded picture of performance". It is a system that can be used by the FSA and FSS and others industry players to offer "a scalable solution to this challenge", he says.
It's a remarkable turnaround, but it's too early to count our chickens just yet (sorry!). Now 2 Sisters and the wider meat and poultry sector need to prove they're serious about maintaining this new level of openness and collaboration for the long term.