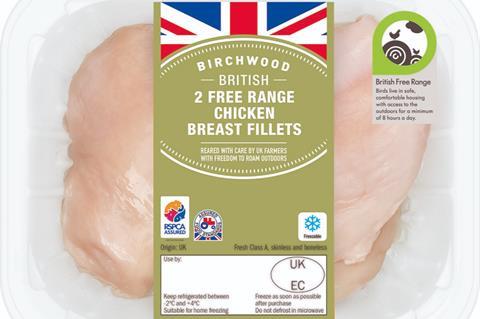 Lidl has become the first UK supermarket to carry method of production labelling on its fresh meat products, after launching a trial on packs of fresh chicken this week.
The move follows the successful introduction of similar labelling by the discounter's German business last year. It comes as a poll of 2,000 Lidl shoppers last month found that 71% wanted retailers to be more transparent about how their fresh chicken was reared.
The new front-of-pack labelling system splits fresh chicken into five different categories according to method of production: Indoor, British Indoor, British Indoor+ (where birds have additional environmental enrichment), British Free Range and British Organic.
Lidl said the move would "combat consumer confusion" by including details that had previously not been declared by supermarkets on pack.
They would complement existing front-of-pack labelling for schemes such as Red Tractor and RSPCA Assured, it added, while the labels could also be rolled out across the rest of Lidl's meat offering if the trial was successful.
The discounter's move follows the launch of a similar method of production scheme by Casino in France last December, and comes amid an ongoing debate around whether UK food products should carry more information over how their meat was produced.
The Labelling Matters coalition, which counts Compassion in World Farming, the RSPCA and the Soil Association among its members, launched a campaign for clearer labelling last spring, while environment secretary Michael Gove has also expressed support for a post-Brexit mandatory method of production scheme in the past.
"To ensure we continue to make good food accessible, it's important we offer customers quality meat products from a range of different farming systems," said Lidl chief commercial officer Ryan McDonnell.
"We feel it's important to provide them with very clear, objective information about how the meat was produced to enable them to make an informed purchase decision," he added.
The British Poultry Council said the scheme would enable shoppers to make "an informed choice".
The scheme was also welcomed by the RSPCA, Red Tractor and Compassion in World Farming. The NGO's director of food business Tracey Jones said Lidl's move would allow consumers to "make higher welfare choices when they are out shopping and support those farmers that are committed to higher welfare production".