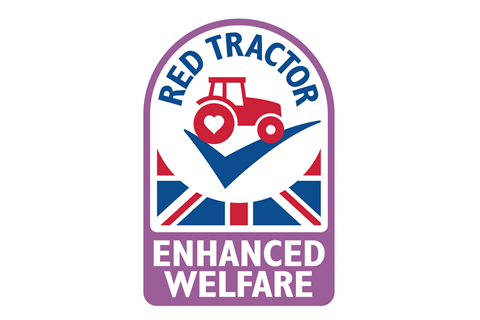 Red Tractor has launched a new enhanced welfare marque for chicken – part of a trio of beefed-up standards to be unveiled this year.
The new chicken standard for indoor-reared birds – which is already in use on Tesco's new Room to Roam range – was "an important broadening" of the farm assurance scheme, said CEO Jim Moseley.
It mandates the use of slower-growing chicken breeds and more space and natural light in barns to encourage natural behaviours like pecking, scratching, wing flapping and the use of perches. Participating poultry producers will also be required to reduce stocking densities from 38 kg/m² to 30kg/m², Red Tractor said.
The launch follows a series of alleged animal welfare breaches on poultry farms over the past two years, and comes amid growing calls from animal welfare campaigners for the poultry sector to move away from fast-growing chicken breeds and high stocking densities.
The new standards retain the union flag and the scheme's tractor logo, but replaces the words 'certified standards' with the farming method used.
Each new marque will have its own colour, with the enhanced welfare for chicken standard using purple. A new free-range chicken marque soft-launched during the spring uses orange, while a planned organic standard will use green. Red Tractor said it would also continue to examine which other sectors "would benefit from this modular approach" to enhanced standards.
The new chicken welfare standard met all the requirements of the 2026 Better Chicken Commitment/European Chicken Commitment but was also underpinned by "the world-leading safety and traceability benefits of Red Tractor", the scheme claimed.
The standards would also help simplify the experience of shoppers and diners, offering a "one-stop solution for people looking for specific production methods for food that is also grown or reared to safe, traceable, high animal welfare and environmental standards", Red Tractor added.
"Over the past 18 months we have been focused on how we can provide greater choice and clarity for those shoppers and diners who are looking to buy British produce grown and reared to recognised production methods, with the added confidence that it's been checked every step of the way from farm to pack," Moseley added.
Compassion in World Farming said it was "delighted" with the introduction of the new scheme, describing it as "an important enabler for companies who want to source to this standard".
The launch of Tesco's Room to Roam range at the start of April also meant about 5% of all supermarket chicken sold in the UK now met the Better Chicken Commitment, claimed animal welfare charity the Humane League.
Room to Roam, which is also RSCPA Assured, currently consists of five fresh chicken SKUs: a whole chicken, thighs and drumsticks, thigh fillets, breast fillets and chicken fillets. It is positioned below Tesco's Premium Finest tier.
Its introduction meant that Tesco Finest, Organic and Room to Roam fresh British chicken now all met BCC standards, Tesco said, while all of the retailer's branded fresh chicken from Willow Farms up to Tesco Finest was produced to standards that exceeded both government-approved industry welfare and Red Tractor standards.