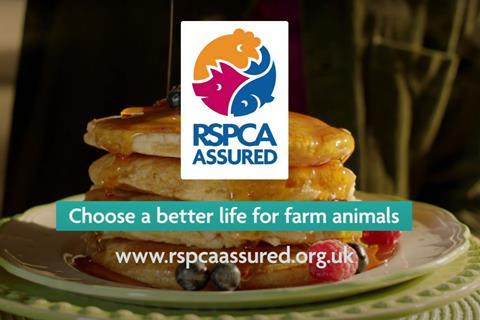 RSPCA Assured has launched a new TV ad push which calls on the public to support higher-welfare farmers this Pancake Day by purchasing RSPCA Assured eggs.
The campaign is part of the organisation's bid to back RSPCA Assured egg producers during bird flu restrictions and to highlight that whether barn or free-range, RSPCA Assured eggs still offer higher welfare standards.
The ad, by 2S Films, shows a group of friends sitting around a table adding toppings to stacks of pancakes. It will air on Channel 4 during Food Unwrapped, Grand Designs and The Great Pottery Throwdown until Tuesday 21 February.
The campaign will also be featured on More 4 and E4 during programmes including Gogglebox, Escape to the Chateau and Kirsty & Phil's Love It or List It, as well as on Sky channels and the Food Network.
"We hope the new TV ad will encourage consumers who choose to mark Pancake Day by whisking up some batter and flipping some tasty pancakes, to make sure they are buying higher-welfare eggs," said Xenia Kingsley, senior marketing manager at RSPCA Assured.
The advert is part of a larger Pancake Day campaign for the charity, including social and press activity aimed at providing the public with information and reassurance about eggs during the avian flu outbreak.
"We wanted to highlight the importance of hen welfare and invest in our RSPCA Assured egg members by backing them during this difficult time as they face the challenges of one of the worst outbreaks of bird flu the UK has ever seen," Kingsley added.
It comes as eggs sourced from the east of England can (as of the start of February) no longer be labelled 'free-range' due to avian influenza bird housing requirements. They must now be labelled as barn eggs, with eggs from the rest of the country set to follow by the end of the month.