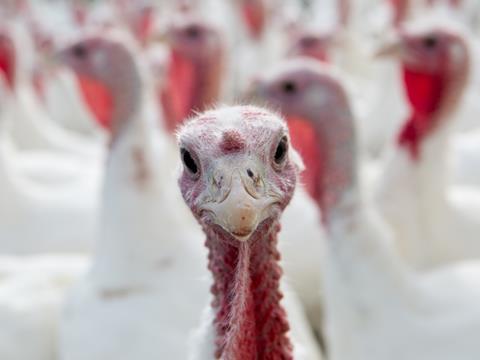 Up to 900 seasonal workers from the EU have been hired by turkey giant Bernard Matthews, its owner Ranjit Singh has revealed – easing concerns over turkey shortages in the run-up to Christmas.
Singh had echoed warnings from other parts of the poultry sector in July when he suggested the sector's "critical" lack of butchers, coupled with the impacts of the so-called pingdemic on the workforce, meant shortages of key poultry products were inevitable.
Uncertainty over the labour crisis ultimately led producers to lay down about a fifth fewer turkeys for the Christmas season than it did last year, according to the British Poultry Council. Meanwhile, in August, Avara Foods told The Grocer it expected to sell more frozen birds this year, as a result of the labour situation.
But following the government's announcement it would allow the poultry sector to recruit 5,500 foreign workers on temporary seasonal visas in September, Singh said the staff secured by Bernard Matthews to work at its turkey processing centres in East Anglia meant the supplier was now "well on the way to plugging the job gaps for the massive volume increases we get during this time of year".
The workers – recruited from countries such as Ukraine, Moldova, Belarus, Romania and Bulgaria – would help Bernard Mathews meet the 400% production uplift it required in the run-up to Christmas, he added.
"Our teams have been working incredibly hard to process the almost 900 applications for the seasonal worker scheme and we'll be seeing the first arrivals at our factories in the coming days," he said.
"This means we should be able to fulfil all our projected orders for turkeys and there will be enough turkeys to go around," Singh added. "Everyone should be able to source their Christmas turkey this year, which is great news.
He thanked the government for its eventual decision to allow in foreign workers. However, he warned the wider poultry sector, including his own poultry giant 2 Sisters Food Group, still needed help to address its chronic shortage of staff, in order to avoid an increasing dependence on foreign-sourced poultry in the future.
"I am hopeful similar arrangements could be made for next year, and with an earlier visa process start date, this could make it even more successful," he said. "Labour as a key structural challenge for our sector is here for 12 months of the year, and it's one that's not going to go away."
Suppliers did not want to see the sector shrinking "when the demand is as big as ever, especially at Christmas", he added. "It would be silly to plug any gaps by using imports, for instance. We don't think the British consumer wants to see that, so hopefully the same temporary arrangements can also be made for 2022."
His comments come as 2 Sisters Food Group was reported by Sky News to be in "advanced talks" with hedge funds last week about securing up to £50m in financing to help it weather the ongoing labour crisis and supply chain challenges.
Despite initial concerns the government's visa scheme would be "too little, too late," BPC CEO Richard Griffiths said "both large and small poultry businesses" had seen similar success recruiting seasonal staff.
"The general feeling is that this will help get us over the line this Christmas," he suggested, though he mirrored Singh's warnings that a year-round labour strategy was required for the sector.
"Processors want to invest in technology, automation and skills [to attract British workers], but they also need breathing space to do this and need to keep up productivity at the same time."