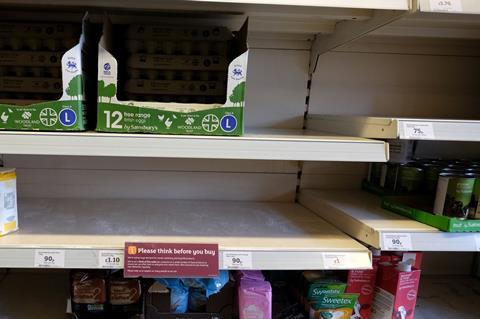 Volumes were up 16.6% year on year in the week ending 25 April 2020, despite a 4.8% price hike on average

Shortages have been attributed to high demand and an avian influenza outbreak, which hit production
Soaring demand for fresh eggs during the coronavirus lockdown has led to widespread shortages and price rises across the mults.

In the four weeks ending 11 April 2020, volume sales of eggs jumped by 17.7% year on year [IRI]. Demand has remained high since, with volumes up 16.6% year on year in the week ending 25 April 2020, despite a 4.8% price hike on average.

Of 18 fresh shell egg SKUs sold by Tesco, 11 were listed as unavailable at the time of writing, with products including own label, free-range medium, large and mixed egg SKUs all out of stock.

Eggs under Noble Foods' Big & Fresh and Happy Egg Co brands were also listed as out of stock, alongside own label barn eggs and Tesco Finest brown eggs, while the Tesco website was promoting Two Chicks liquid egg whites as an "alternative" to shell eggs on a banner ad.
Sainsbury's - which has been carrying a notice on its website saying it has experienced "some difficulty with the supply of fresh eggs in some stores" - was also selling a vastly reduced range this week. Just five own label hen egg SKUs were available, with more than 10 branded and own label SKUs listed as out of stock [Edge by Ascential].

Elsewhere, Iceland had nine SKUs unavailable, Morrisons and Waitrose had two each, while Asda had three SKUs out of stock. Asda has also increased the price of a total of 17 shell egg SKUs across its estate over the past two weeks with, for example, the price of 10 large Happy Egg Co eggs jumping by 45p to £2.70 since last week.

The shortages follow a warning by Noble Foods MD Veli Moluluo in an interview with The Grocer at the start of April that egg prices could rise due to an already stretched supply chain.
A reduction in bird numbers as a result of an avian influenza outbreak from January to March had increased pressure on supply earlier this year, said a spokesman for the British Egg Industry Council.

The situation was further exacerbated by panic buying in March. "Thankfully, this has now ceased, although we are seeing consumers are using more eggs at home due to the Covid-19 lockdown," he added. "The short-term reduction in demand for eggs and egg products in the foodservice and food manufacturing sectors is temporarily helping to ease some of the shortfal," he said.

"How these markets recover and how that impacts on supply will be one of a number of factors that need to be considered as the industry moves forward."

A spokesman for Tesco said the retailer was "working with more suppliers than before, particularly local suppliers" in a bid to meet the significant increase in demand. It had also introduced white eggs to its range that was previously destined for the food service industry.

Sainsbury's said it was "working to increase our supply to make sure they're available to everyone", while pledging there would be more stock "soon".

An Iceland spokesman added the retailer expected demand pressure to ease in the summer - "though we suspect that demand will remain higher than usual so long as people remain at home".

Waitrose, meanwhile, admitted the sector was "undoubtedly experiencing challenges in availability right now". However, it stressed "the hard work of our dedicated suppliers, as well as our decision to take from additional sources to supplement our stock of free range eggs", meant it was largely meeting customer demand, depsite a 50% year on year hike in sales. Asda was also approached for comment.