M&S pledged to source all fresh chicken from slower-growing breeds. What does it mean for the market (and the chickens)?
Last week's announcement by M&S that it will source all its chicken from 'slower reared' birds was hailed as a "landmark achievement" for animal welfare by RSPCA chief Chris Sherwood.
It means the retailer can claim a UK and European first by meeting the standards of the Better Chicken Commitment – a set of six criteria drawn up by 28 leading European animal welfare groups – across 100% of its fresh chicken products.
The move will see the retailer move its standard-tier chicken range to the BCC-approved Hubbard breed by autumn 2022.
As well as using slower-growing breeds of chicken so birds can support their own body weight on their legs, the BCC sets levels of light and perching and roaming space birds must have. Signatories must also submit to third-party audits.
But why is M&S so keen to make the BCC grade for 100% of its range? And will other retailers follow suit?
When it first signed up to the standard in 2017 – with a BCC-set deadline of 2026 for adoption – M&S used the announcement to push its welfare credentials.
"Animal welfare is at the heart of our business and we know how important it is to our customers," wrote head of agriculture & fisheries Steve McLean at the time. "It is my responsibility to push the boundaries. So, M&S has signed up and pledged our support."
At the time, M&S's Oakham range already met most BCC requirements, with the exceptions being its use of faster-growing breeds and its stocking density, which sat at 34kg/m2, above the requisite 30kg/m2.
BCC standards and how they compare
Better Chicken Commitment
Producers must use slower-growing breeds and give broilers at least 50 lux of light, 2m perching space, two objects to peck at per 1,000 birds, less than 20ppm ammonia gas in barns and no cages. Maximum stocking density should be 30kg/m² or less. They must also use 'controlled' atmospheric or electrical stunning, comply with EU animal welfare law and submit to independent audits.
Soil Association
The marque exceeds BCC standards, scoring 5/5 on the Chick-o-Meter, as it gives birds more space to move around, the ability to perch, peck & play, and natural daylight.
RSPCA Assured
The RPSCA Assured's Free Range label also scores 5/5 for the same reasons. However, standard RSPCA Assured scores 4/5 as it can mean birds are kept indoors all the time.
Red Tractor Enhanced
Launched last year, the scheme also meets BCC standards. But it scores 4/5 due to it being an indoor-only standard.
Standard organic
Despite also scoring 4/5, organic-certified chicken does not meet BCC standards as it permits the use of faster-growing breeds.
Red Tractor
The marque's free-range and standard certifications fall short of the BCC. Free-range allows use of fast-growing breeds (scoring 4/5), while standard Red Tractor scores just 2/5 due to the breeds it allows and because it also permits a higher stocking density (38kg/m²).
Source: BCC
Given Oakham is the retailer's standard-tier offering, forming 80% of its fresh chicken range, M&S was coming at the challenge with a big head start.
Indeed, given it had several years in which to sort out the outstanding areas, it's a "clever PR move by M&S", according to an industry source.
It's an area where good PR may be shrewd. RSPCA shopper research undertaken in March by Savanta ComRes found 69% of 2,129 British adults thought supermarkets needed to do more on broiler welfare.
A petition set up by Chris Packham on Change.org in March, calling for eight of the UK's mults to sign up to the BCC, has been backed by more than 191,000 people.
Failure to engage puts supermarkets at risk of activism.
Earlier this year, Morrisons launched a new range of chicken which met the criteria of the BCC but it stopped short of signing the pledge.
The move was derided by The Humane League as "superficial", with fellow animal rights campaigners Animal Equality subjecting the supermarket to a sustained campaign of disruption on social media.
Catching up to Europe
While that campaign hasn't enjoyed wholesale buy-in from the British public, consumers need only look to mainland Europe to note many of its supermarkets are moving more quickly toward the BCC.
In France, all the leading supermarkets have pledged to meet the BCC by 2026, while Système U and Carrefour already meet many of the standards. Pledges have also been taken by retailers in Poland – the largest producer of meat chickens in Europe – Norway, and the Netherlands.
Had M&S waited longer to act, its reputation for leading on animal welfare may have looked questionable.
So will other UK retailers now follow suit? The answer is likely to depend on the material impact of moving to the standard. First and foremost, the mults will be keen to see whether the move impacts M&S's chicken prices.
M&S declined to provide pricing details but as things stand, Oakham Gold (which meets the BCC criteria) sits well below the price points of M&S's other chicken ranges.
According to pricing data compiled for The Grocer by Assosia, an Oakham Gold corn-fed whole chicken weighs in at £4.50/kg or £7.20 for a 1.6kg variant. A similar-sized free-range chicken at the retailer costs £10, £6.25/kg, making it 28% more expensive. A 1.6kg organic chicken comes in at £12.80, or £8/kg – 43% more expensive.
However, comparing whole chicken prices across the mults, Oakham weighs in at 54% per kilogram more expensive than Tesco's standard tier, 51% above Sainsbury's, 48% dearer than Morrisons and 40% more costly than its main rival Waitrose.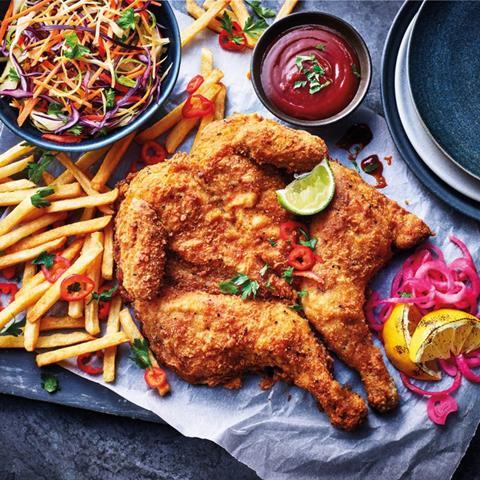 British Poultry Council research suggests the production cost difference between standard chicken lines and BCC-compliant ones sits at around 30%, based on recent trials across the mults.
This differential is because higher-welfare systems "are less productive, less efficient and pose a larger environmental impact", BPC CEO Richard Griffiths argues.
"And that is only small-scale," he adds. "Large-scale production would require massive investment in resources and infrastructure on top of the price difference."
Given the UK is in the throes of targeting post-Brexit trade deals which could open the economy up to cheaper fresh poultry, Griffiths believes it is unlikely producers will want to put themselves at a competitive disadvantage.
However, M&S says it does not expect to make supplier changes to deliver on its BCC commitment, suggesting producers will support such a move.
Price implications also impact consumer demand. And whether that can be balanced against demand for the standard itself is unclear.
One industry source argues high-welfare chicken remains a niche market.
Indeed, The Humane League puts the proportion of BCC-compliant chicken on UK supermarket shelves at a mere 5%.
Plus, as the source notes, M&S's "negligible" poultry market share is likely to rule out its decision putting any immediate pressure on the mults.
According to Kantar data [52 w/e 9 August 2020], M&S accounts for 6% of the value share for the fresh meat & poultry category. While that's larger than Waitrose's 4.6%, it's a far cry from Tesco's 21.7% or Asda's 12.6%, for example.
The extent to which other retailers pay more notice to the BCC may depend on what happens to M&S's share.