With the UK in a decidedly patriotic mood following the Brexit vote, pressure is growing on food manufacturers to switch away from imported eggs.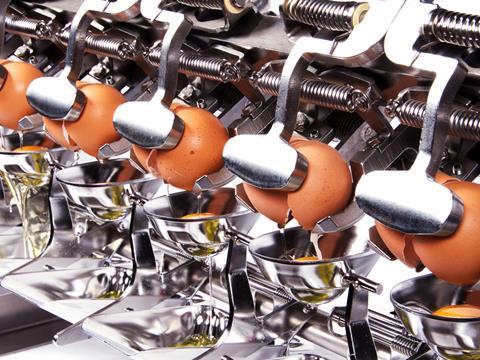 As sure as eggs is eggs, Brits really, really love, well, eggs. Total retail volume sales were up almost 5% in 2016, their 10th consecutive year of growth, with an extra 1.5 billion eggs landing in shopping baskets over the past decade, according to the British Egg Industry Council.

The BEIC has predicted that demand for eggs will continue to grow in 2017, as consumers make them part of a healthier breakfast, protein trends abide, and pregnant women, babies and older people once again tuck into runny eggs following revised FSA advice.

"Eggs are great news," says Ian Jones, chairman of BEIC's British Lion Eggs Processors (BLEP) arm. "They're safe, nutritious and good value."

While British shell eggs are a resounding success, the situation is quite different on the processing side. The Lion stamp appears on just 70% or so of eggs used in 5,000-odd grocery SKUs, BLEP estimates. A significant proportion of eggs used by the UK food industry are from overseas at the moment, mainly mainland Europe but also further flung countries such as India.

But with Brexit having created a decidedly patriotic mood, has the opportunity come for British eggs to claim a higher share of the processing sector?

The post-Brexit threat of high import tariffs hascertainly "encouraged an increase in enquiries from UK manufacturers that traditionally have imported European egg products" says BLEP.

Last summer, the organisation cited Defra figures suggesting imports of egg products were falling. The equivalent of 304,000 fewer cases came into the UK in the five months to May 2016, a drop of nearly 15% year on year.

Egg suppliers are hoping that trend will accelerate post-Brexit, particularly for own-label products. They believe far too many supermarket quiches, cakes and jars of mayonnaise are produced using imported eggs - none of which, they say, fit safety criteria as rigorous as those set out in the Lion scheme's 45-page code of practice, introduced in 1998 and relaunched in November 2015, along with the promise of enforcement by regular and unannounced independent audits.

By way of contrast, the EU's processing standards are contained in "an extremely basic document" of four pages, says Jones. "It doesn't even cover the pasteurisation temperatures required for safe products."

The standards of non-UK eggs product are variable, agrees Rob Newell, a former brand marketing head at egg giant Noble Foods. "There are some schemes, such as Germany's KAT, but these do not compare with Lion standards across a wide number of areas. There have been a number of food safety issues linked to European eggs and egg products."
Risky business
With none of the leading supermarkets currently committed to using only British eggs - only non-caged - BLEP believes UK retailers and food manufacturers are putting themselves at risk by permitting the use of pasteurised foreign eggs rather than the Lion equivalent. Feed contamination and inadequate heat treatment have been the root cause of a number of food safety issues involving non-UK pasteurised eggs.

The government's Advisory Committee on the Microbiological Safety of Food has repeatedly noted concerns about non-UK eggs, highlighting three separate cases involving salmonella in imported eggs, and noting pasteurised eggs can carry a food safety risk. A 2016 report from the body said the risk from domestically produced eggs was lower.
"It goes without saying that British producers would like to see greater use of Lion code eggs"
In spite of the potential health hazards, some suppliers still insist on using imported eggs - a "puzzle" given the superiority of British eggs, says Jones.

The NFU has an idea why. "The key reason is that manufacturers are seeking lower costs," says chief poultry adviser Gary Ford. "It goes without saying that British producers would like to see greater use of Lion Code eggs in processed food."

That sentiment seems to be echoed by UK shoppers, 84% of whom believe British eggs should be used in food manufacturing, according to a BLEP survey. The organisation's poll of 2,003 people last summer also revealed almost everyone (93%) thought grocery items containing egg should make their country of origin clear on pack. For that reason BLEP planned a 'made with British Lion eggs' accreditation scheme in autumn 2015, making a trademark application for the name and logo.

BLEP doesn't actively campaign for use of the logo - the Lion stamp within an egg-shaped Union Flag - but welcomes any manufacturer who wants to use it, and believes it's more important that processed food contains Lion eggs and communicates the fact on pack.
UK has capacity
So what if all the UK food makers currently using imported eggs switched en masse to the Lion variety: would the country's egg suppliers be overwhelmed? Certainly not, say the experts.

"The UK has capacity to meet a phased growth in products," Rob Newell believes. "The UK's focus on free-range production gives a key difference versus Europe, which is largely focused on cage and barn production systems." (Brits' love of free-range led to an 11% rise in volume sales last year - an equivalent of 380 million eggs, while caged dropped 90 million.)

BLEP is also confident egg suppliers wouldn't crack under the pressure of vastly increased demand. They would cope "in an orderly fashion" in both producing and preparing the eggs for distribution, says Jones. "In the past three years, there has been well in excess of £25m invested in new facilities in the UK."

The NFU is no different in its view. Gary Ford says: "We would like to see more companies commit to using British eggs. If the food industry wants the eggs, the industry is ready and willing to produce them."

Indeed, it looks like progress is already being made. BLEP has plans for a manufacturing-focused campaign, and is having "some very interesting conversations at the moment with retailers and brands along the lines of looking at British sourcing".

Set to kick off in June, a "hard-hitting" ad push will target retailers, manufacturers and foodservice operators, backed by one-to-one meetings, presentations at cross-industry gatherings, and partnerships with food safety experts. A digital drive will launch in the second half of 2017, with an animation explaining "in simple terms" the processing methods for Lion egg products.

Jones won't speculate on when British Lion eggs will have 100% penetration among food processing companies - but "everything is pointing in that direction".
This feature is part of The Grocer's 2017 Meat, Fish & Poultry special. Read more from the special below:
Will Frankenfoods flood the market in post-Brexit US trade deal?
Will Brexit net a better deal for British fisheries?