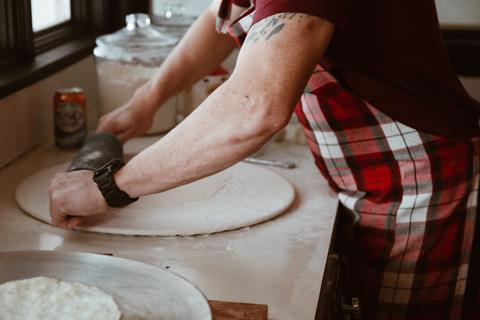 I'm an industry lifer and I'm beyond proud of our food and drink industry. Especially the amazing British insurgent brands that have been tirelessly, obsessively nurtured to become national favourites by better meeting fast-changing, ever-evolving consumer needs.
We already know these challenger brands are the future of the food chain. Retail sales data and management consultants such as Bain, McKinsey et al have demonstrated the ever-growing shift by consumers, who are substituting traditional powerhouse brands for challenger and insurgent brands offering differentiation, personalisation, provenance and purpose.
But the coronavirus crisis means many of these brands are now under threat.
On the one hand, some food and drink companies are seeing record weeks as consumers stock up and supermarkets work tirelessly to maintain the availability of products on shelves. But on the other hand, there are a growing number of stories about national retailers deprioritising or temporarily delisting products from our great British food and drink startups. The consequences will be stark, and in some cases, terminal.
In these challenging times, we all understand the need to keep high-volume, high-demand lines on the supermarket shelves. But please don't achieve this at the expense of food and drink startup brands, which bring much-needed energy to our supermarket and virtual online shelves.
A lot of these startups have already taken a disproportionate hit from the coronavirus fallout, having built their brands across different channels such as office canteens, high street independent retailers and fast food chains. With these channels entirely shut, some brands have been crippled overnight, so please don't add to their plight.
Now more than ever, consumers need emotionally engaging brands with greater purpose. Take these brands off the shelves and you take the energy and excitement off the shelves.
These entrepreneurial, nimble brands can be knights in shining armour during this crisis. They can move quickly and have stock to keep shelves full for consumers in any supermarket within days.
Instead of ditching startups, which typcially have only two to four SKUs on shelf, why not take the tail off the blue chip suppliers who have anywhere from 20 to 100 product lines listed? Or remove international secondary brands in favour of backing British?
Challenger brands are leading the growth in UK food and drink. They aren't just the future, they are the here and now. But they won't have a future if supermarkets proactively scale them back. They simply won't survive the next few months.
Historically, it has been said that suppliers are at the mercy of UK supermarkets. But I've always argued the opposite – saying that the majority of UK food and drink suppliers are eternally indebted to our national retailers. Now, more than ever, there is a need to be supportive of those who need it most. Please support, don't sacrifice, British food and drink startups in these unprecedented times.