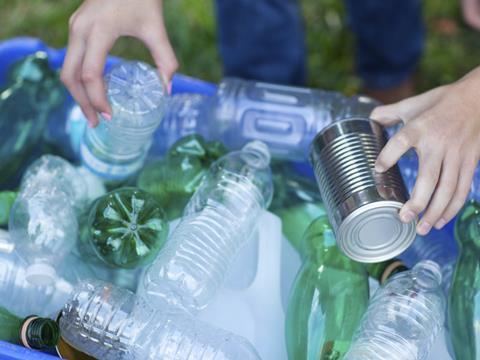 Environment secretary Michael Gove has said a deposit return scheme (DRS) will be introduced in the UK in a bid to stop plastic pollution "wreaking havoc" with the environment.

In a move which follows in the footsteps of the Scottish government, Defra announced it would push ahead with DRS even though it has yet to complete an official consultation on the controversial scheme.

Industry sources and environmental groups welcomed the announcement from the government that it would work with devolved governments to bring in a joined-up DRS system across the UK.

However, today's surprise timing was criticised as evidence of the government's chaotic handling of the plastic crisis, as it is the latest in a string of different announcements in the past few months.

One senior industry boss described the government's communication of its strategy as an "omnishambles" and said it had had shown a "total lack of joined-up thinking", while ministers were accused of seemingly trying to outdo each other to be seen as "saviours of the environment" in the face of concerted media and environmentalist pressure.

Earlier this month Chancellor Philip Hammond announced a call for evidence on plans to reduce plastic waste, including the possibility of a new tax on single-use plastic products and packaging.

And in January PM Theresa May announced a 25-year plan to tackle plastic which held back on committing to DRS because the government said ministers were still consulting on the idea.
But today Gove confirmed some form of DRS scheme would be brought in to "increase recycling rates and slash the amount of waste polluting our land and seas".

"We can be in no doubt that plastic is wreaking havoc on our marine environment - killing dolphins, choking turtles and degrading our most precious habitats," said Gove. "It is absolutely vital we act now to tackle this threat and curb the millions of plastic bottles a day that go unrecycled.

"We have already banned harmful microbeads and cut plastic bag use, and now we want to take action on plastic bottles to help clean up our oceans."

The announcement said the government would introduce a scheme in England for single-use drinks containers, including plastic, glass and metal.

It said the consultation would look at the details of how such a scheme would work, alongside other measures to increase recycling rates.

"We hope to talk to the devolved administrations about the scope for working together on this important issue," said Gove. This, sources said, was a welcome move amid fears of cross-border chaos if Scotland pushed ahead with DRS in isolation.

Similar schemes already operate in countries such as Denmark, Sweden and Germany whereby consumers pay an up-front deposit when they buy a drink, ranging from 8p in Sweden to 22p in Germany, which is redeemed on return of the empty drink container.

The proposals are likely to involve a network of reverse vending machines, where consumers insert plastic or glass bottles or cans into a machine which returns their deposit

Businesses will then be responsible for making sure they are effectively recycled, a move which it said led to a 97% recycling rate in Germany.

However, Defra said it had not ruled out a possible variant of DRS which would include cash rewards for returning drinks containers without an upfront deposit, something which some manufacturers have said would be less punitive to consumers.

Defra said the consultation will take into account views from producers, suppliers and consumers to ensure that any system introduced works across the country.
It said it would only take forward options from the consultation "which demonstrate that they offer clear benefits and are resistant to fraud, and costs on businesses, consumers and the taxpayer are proportionate."

One leading supplier said: "The government's handling of this has become quite frankly an omnishambles. There has been a total lack of joined-up thinking and a terrible lack of communication with the industry about what it actually wants to achieve.

"While the direction of travel had been clear for some time and we have been expecting DRS to arrive, the fact this has come out today in yet another announcement from the government is yet more evidence that ministers are not working effectively together and with industry but rather trying to score political points and almost competing against each other.

"One good thing is that the announcement seems to suggest the government realises it would be ridiculous to have one system north of the border and another south of the border. But everyone is shaking their head about the way it's been handled."

One leading environmental charity boss agreed that the government's handling of the DRS issues had been "confusing and shambolic."

"There have been so many conflicting announcements. The government really does seem to be in a muddle.

"We are pleased the government is now listening about concerns over plastic after turning a deaf ear to it for years. But now we have this whole blizzard of different announcements, there is a real danger it is going to end up in chaos.

"We need to have a joined-up policy which tackles the key issues and is also fair to manufacturers and retailers."

Last week The Grocer revealed leading food and drink companies, including Coca-Cola and Tesco, were working together to come up with schemes to revamp failing local authority recycling systems and to tackle the issue of on-the-go waste.

Wrap is also due to announce industry commitment to reduce plastic consumption next month with the launch of a so-called UK Plastics Pact.