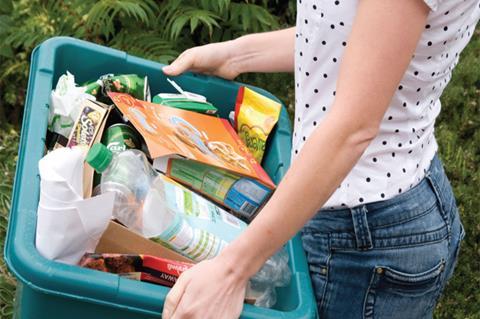 There was "a risk that less material will be available if councils cut recycling collections", said the Recycling Association

Some local authorities have chosen to cut recycling services to prevent the risk of exposure when collecting and sorting the materials
Environment and trade organisations have questioned the decision of local authorities to reduce or close domestic recycling services amid the coronavirus pandemic.
It comes after the Recycling Association called on the government to ensure recycling collections from households were maintained.
With the Covid-19 outbreak, vital packaging was needed to protect food and medical supplies, said the association. There was "a risk that less material will be available if councils cut recycling collections".
In a letter to Defra ministers, Recycling Association CEO Simon Ellin last week warned that "with the exception of supermarkets, much retail material will not be available for the foreseeable future, and therefore our members will need to recycle more material collected by households from local authority collections".
He added: "There is likely to be a temptation for local authorities to lower standards further during the crisis, but I ask you to remind households and councils of the need to continue providing high-quality recycling collections at the same frequency as now, so that we can quickly turn these materials into new and vital products.
"We are aware some councils have already dropped collection of certain materials due to the crisis, and this could harm our ability to provide these materials to manufacturers."
Some local authorities had chosen to cut recycling services because they were "the most exposed to the virus when they collect the waste" Pierre Condamine, waste policy officer for Zero Waste Europe, told The Grocer.
Additionally, the recycling process for dry recyclables usually required sorting that was often done done manually – presenting risk of exposure to Covid-19, he added. "However, there is no specific reason to stop separate collection as long as additional safety measures are observed."
British Plastics Federation senior recycling issues executive Helen Jordan said "disruption to recycling services should be a last resort. It is therefore hoped that kerbside recycling collections will be able to continue, along with the facilities needed to manage, sort and reprocess this material.
"These all play an important role in maintaining a healthy supply of recycled material."