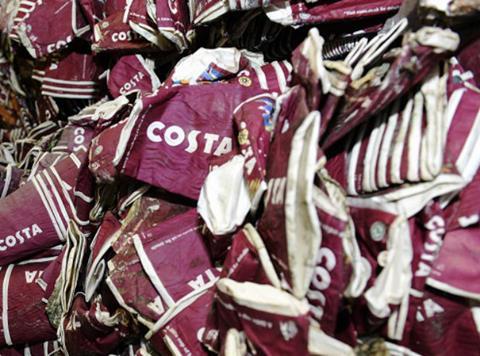 Costa has launched an ambitious target to recycle 500 million cups by 2020 as it seeks to tackle cup waste head on.

Equivalent to its entire yearly sales of takeaway cups, the figure represents a fifth of the 2.5 billion takeaway coffee cups consumed in the UK each year.

The coffee giant is planning to recycle 100 million cups over the course of the next 12 months.

Costa has recycled 14 million cups since introducing an in-store recycling scheme in February 2017.

It will pay for the collection and delivery of the coffee cups to the James Cropper, ACE UK and DS Smith paper mills.

The coffee chain is collaborating with waste collectors Veolia, Biff, Suez, Grundon and First Mile.

In a bid to make recycling more financially viable, Costa will pay a £70 supplement to waste contractors per tonne of cups in addition to the current £50 rate.

Independent auditor ValPak will be paid an additional £5 per tonnne to audit the system and report on recycling rates.

"Following today's announcement, up to 100 million cups will be recycled this year alone and if the nation's other coffee chains sign up, there is no reason why all takeaway cups could not be recycled by as early as 2020," said Costa MD Dominic Paul.

"At Costa we want to guarantee our customers that if they throw their cup into the right recycling bin it will get recycled, and today's announcement is a major step towards that happening. We have set our own target to recycle the same volume of takeaway cups we use every year and call on other cup retailers to join and help to build a dynamic market for takeaway coffee cup recycling."

Environment Minister Thérèse Coffey said: "Congratulations to Costa on taking this significant step to help coffee lovers do the right thing and increase recycling. We all have a responsibility to our environment and this is a significant step by a British business which should dramatically increase the number of disposable coffee cups we recycle in this country.

"We want to help companies become plastic free and through our 25 Year Environment Plan we are putting in place the ambitions to encourage all of us to play our part in ending the scourge of plastic waste in our natural environment." It comes after Costa Coffee signed an agreement to accelerate cup recycling rates with recycling group ACE UK alongside Starbucks, Pret and Caffe Nero in October last year.