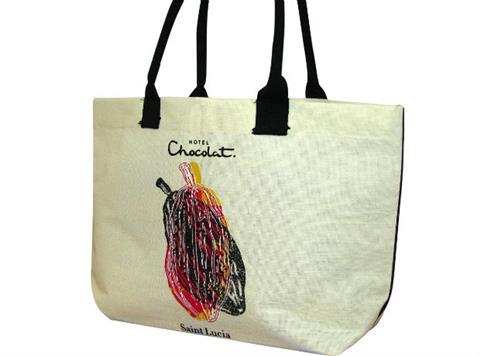 Hotel Chocolat is set to launch a range of environmentally friendly reusable shopping bags over the next few days.

The luxury cocoa grower and chocolatier has expanded its commitment to sustainability, the environment and ethical production with reusable bags from supplier Jutexpo.

The bags are made from a blend of 75% jute and 25% cotton with a fine fabric weave. They feature unique designs showcasing some of Hotel Chocolat's locations, such as its Boucan Hotel & Restaurant and Rabot Estate cocoa plantation, both in Saint Lucia, alongside a more straightforward design of its logo. Each bag will cost £8.

The development forms part of the chocolatier's Engaged Ethics programme, which aims to transform the lives of cocoa-growing communities in Ghana and Saint Lucia. It has also committed to reduce waste by using every part of the cacao bean in its production processes.

Sam Turner, compliance director of Jutexpo, said: "We are delighted to be working with Hotel Chocolat and producing this great range of bags, which prove that you can combine a quality product with a sophisticated look in an environmentally friendly and ethically sound way."

Hotel Chocolat was not available to comment when approached by The Grocer.