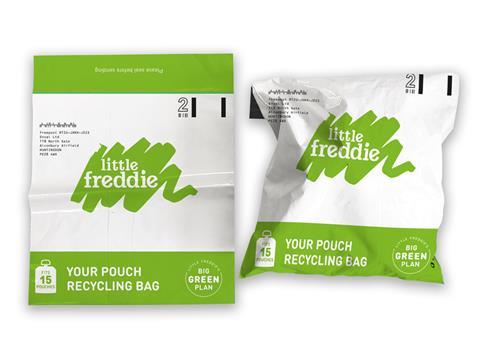 Little Freddie has kicked off a sustainability initiative that will see the organic babyfood brand aim for zero waste to landfill from its pouches – in what it claims is an industry first.
It has teamed up with recycler Enval to use "ground-breaking" technology to separate the packaging's plastic and aluminium for reuse – a process that reduces the carbon footprint for disposal of babyfood pouches by 90%, according to Little Freddie.
The move forms part of the brand's new 'Big Green Plan' to improve its environmental impact. It brand will encourage all shoppers who buy via the Little Freddie website to return their used packs via a prepaid envelope. High street consumers will be able to request an envelope via the brand's site and social media.
The environment was "a key concern among parents" said Little Freddie sustainability manager Jess Ainley. "We're the first babyfood brand to offer a zero waste to landfill recycling initiative – but we hope we're not the last. We want to see this rolled out across the category and made mainstream, so it is as easy as possible for consumers to recycle."
Little Freddie, which made its UK debut in April, is also working towards meeting internationally recognised standard ISO 14001 for reducing its impact on the environment. The certification is a voluntary audit to help organisations make efficient use of resources and waste reduction.