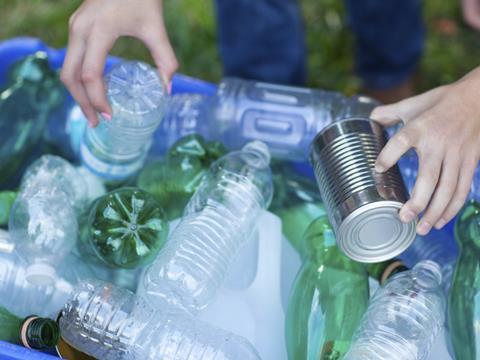 More than a third (36%) of Brits support a system of fines or taxes for businesses that don't take responsibility for recycling their packaging, according to a study by ecological household brand Ecover.
A survey of 2,007 shoppers also found one in 10 would make it a criminal offence to throw recyclable material into a bin intended for landfill. More than half (53%) are in favour of a plastic bottle deposit scheme, while 42% wanted plastic-free aisles to be installed in supermarkets.
A major driver for consumers' attitude was David Attenborough's Blue Planet II series, which revealed "the shocking state of plastic waste in the world's oceans" said Ecover.
"An incredible one in five people in the UK have started using reusable shopping bags since watching the documentaries on the TV. One in six have made more effort to recycle at work or at home, while 13% have switched to products that use less packaging."
The brand's findings come after Theresa May yesterday announced an end to the sale of plastic straws, drink stirrers and cotton buds.
Subject to a consultation, which the environment secretary will launch later this year, the government was prepared to ban the sale of such items in England "under plans to protect our rivers and seas and meet our 25-year environment plan ambition to eliminate avoidable plastic waste" it said.
The move forms part of the wider government waste strategy, including its current call for evidence on how to use the tax system to address single-use plastics waste.
"The prime minister's plastic-free vision should be applauded," said Sian Sutherland, co-founder of sustainability campaign group A Plastic Planet. "Plastic cotton buds, straws and drink stirrers are a scourge on our environment and our health. But this is just the tip of the iceberg."
Sutherland urged May to make plastic-free supermarket aisles "a reality as soon as possible".
"With growing public despair at the truckloads of plastic being dumped in the ocean each and every day, plastic-free aisles will for the first time give consumers choice over what they buy. Where is the logic in wrapping something as fleeting as food in something as indestructible as plastic?"
James Butcher, MD of advisers Solutions 4 Retail Brands, warned that "legislation is not the answer to everything". Business leaders needed to "act in unison" to cut plastic waste, he said.
"It's a start that we're talking about it, and it's also encouraging to see retailers already taking steps on their own to make a difference. Iceland's plastic-free pledge in its own-brand goods is positive news, but the time is now for more national brands to also take a stand and accept responsibility for their own actions."