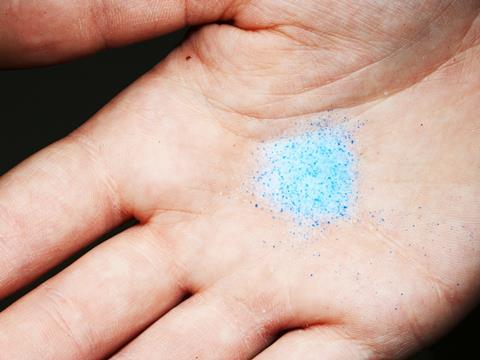 The UK's clampdown on the use of microbeads came into force today (9 January) – with the government hailing "a landmark step in the introduction of one of the world's toughest bans on these harmful pieces of plastic".
Makers of cosmetics and personal care products will no longer be able to add microbeads to 'rinse-off' products such as face scrubs, toothpastes and shower gels. The move comes in response to consumer concerns about damage to marine life caused by build-up of the tiny plastic beads, a commonly used exfoliant since the early 1990s.
The ban – announced in September 2016 – would prevent billions of microbeads ending up in the ocean every year, the government said, putting the UK "at the forefront of international efforts to crack down on plastic pollution".
Microbeads were "entirely unnecessary when there are so many natural alternatives available" said environment minister Thérèse Coffey. "Now we have reached this important milestone, we will explore how we can build on our world-leading ban and tackle other forms of plastic waste."
Environmental campaigners welcomed the "robust" clampdown. "We believe that this signals a real commitment on the part of this government to clean up our seas and beaches" said Dr Sue Kinsey, senior pollution policy officer at the Marine Conservation Society.
Dilyana Mihaylova, marine plastics projects manager at conservation charity Fauna & Flora International, said "the strongest and most comprehensive ban to be enacted in the world" would hopefully be "a first step on this road before we see further actions to combat plastic waste".
However, the chairwoman of the government's environmental audit committee (EAP), Mary Creagh MP, called for more action to tackle ocean plastic. "Our seas are choked with massive quantities of polluting microplastics, which absorb chemicals, are eaten by wildlife and enter the food chain", she said. The ban on microbeads was "a step in the right direction, but much more needs to be done".
In recent months, the EAP has recommended a deposit return scheme for plastic bottles, a 'latte levy' for plastic-lined coffee cups, and reforms to make producers more responsible for their packaging.
A ban on the sale of products containing microbeads will follow later in the year. In September, Lidl removed all products containing microbeads from its UK stores as it curbed plastic pollutants across own label and branded ranges.
In December 2016, Andrea Leadsom MP, then the environment secretary, urged shoppers to boycott cosmetics containing microbeads – around six months after senior scientific representatives from L'Oréal, Procter & Gamble and Unilever vowed they were on track to eliminate plastic microbeads from their products globally within the next 18 months, and reassured MPs that replacement materials would not harm the environment.