Our Store Manager of the Year Award recognises outstanding hard graft and commitment from the nation's best store managers. Each year, we select top-performing managers to represent Tesco, Asda, Sainsbury's, Morrisons and Waitrose and they go head-to-head in front of our expert judging panel to take home the title.
The winner will be announced live today (9 November) at 3pm on thegrocer.co.uk
Shortlist
Joanne Bennett-McNally
Morrisons Widnes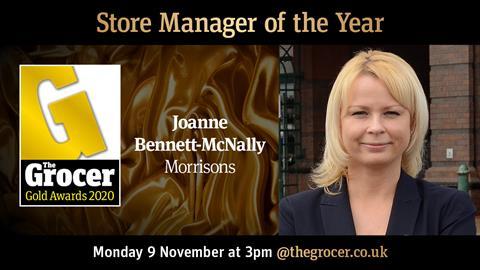 Joanne Bennett-McNally has been a store manager since she was 20 years old, starting out at Tesco before joining Morrisons at the Widnes store two years ago.
Widnes "had a reputation for being a tough store", according to McNally. Due to a wealth of operational and cultural challenges, she had her work cut out when she arrived.
"There were issues with compliance, the warehouse was full to the brim and the KPIs were off track," but McNally said the issue she tackled first was the low staff morale and the poor customer service that resulted from it.
From staff surveys to taking a particularly grumpy regular customer out for coffee, McNally sought feedback and advice from everywhere possible in her pursuit of turning the store around. As she put that feedback into action, the store was soon nailing compliance audits, increasing customer satisfaction levels and making big improvements to waste and shrinkage levels.
But more importantly, colleague engagement increased by 22%, a first for Widnes, making it one of the top in the Morrisons estate. The store also hit 12/12 passes for internal mystery shop checks – the only Morrisons store to do so that year.
Full marks is nothing out of the ordinary for McNally, who came to The Grocer's attention when her team got an outstanding 20/20 for service on our Grocer 33 mystery shop, winning Widnes Store of the Week – an event she said was "truly amazing" and one of the proudest moments in her career.
"After this, the team was strengthened, renewed and ready to take on anything," says McNally.
Nick Unter
Waitrose Sunningdale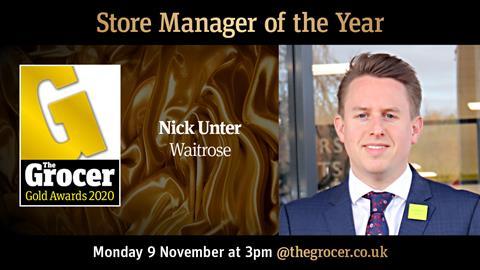 When Nick Unter came to the Waitrose Sunningdale store two years ago, he was met with a long-standing, established team who were "relatively afraid of change".
This culture was a challenge for a man who is dedicated to personal development, attending the Oxford Summer School and studying his Masters in Leadership at the University of Reading.
"I wanted to develop adaptable and flexible partners at every level," says Unter.
The team was used to being given very clear direction and set goals, which Unter said was limiting their potential, preventing them from taking responsibility and making them focus on chasing a numerical result.
"I aim for a coaching approach," says Unter. "I provide absolute clarity on the personal difference they can make every day."
Unter made some changes to the management team, brought in some "fresh views" and worked on internal development to "liberate potential" that was already on the staff.
This new adaptive culture allowed the team to take Sunningdale online, the first Waitrose store added to the online roster "in a number of years" according to Unter, by far exceeding the expectations of what was thought possible for the 15,621 sq ft store.
And the results are paying off: the store is now taking 500 orders per week – accounting for about 12% of the store's weekly sales.
But that's not all. The store staff are thriving under the new coaching culture Unter has implemented, with employee satisfaction up 3% year on year, up 5% on the regional average.
Graham MacKenzie
Asda Forfar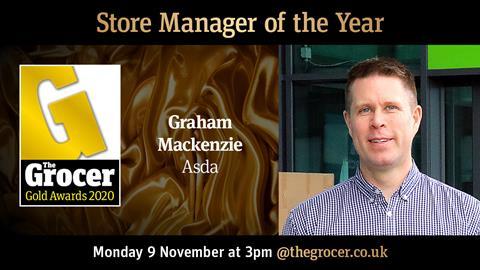 Graham Mackenzie has been in retail for 25 years and has been at the helm of Asda Forfar for the past four years.
Availability is high on the agenda for Mackenzie. "In-store and online availability needs to be the best that it can be," he says.
His attention to detail on this front has won him the highest availability score for Asda's northern region, beating out every other branch north of Manchester.
This experitise became inavluable when the pandemic hit early this year. Mackenzie says the experience was "like 23 December every day for a month" and the store experienced double-digit growth every day.
The five or six online orders the store used to recieve a day soon exploded to up to 58, forcing him to use the empty café to hold orders.
"We had to adapt and overcome" says Mackenzie. "There was no visibility on which challenge we were going to have to face next."
Despite the chaos, Mackenzie's was the only store in the region to hold its internal availability score right through the panic-buying period.
Mackenzie even found working through the pre-lockdown panic buying period "enjoyable", saying: "there was the buzz of a busy store, there was nothing we couldn't sell and it was just good, old-fashioned working through it."
Paul Bunyan
Tesco Sandhurst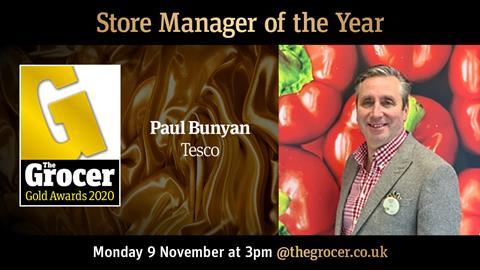 Sandhurst is one of the biggest and most profitable stores in Tesco's portfolio, but Paul Bunyan has been leading the team with mindset of a small shopkeeper.
"I still know a lot of my 54,000 customers by their first name," says Bunyan. "I have a high shop floor presence."
Bunyan also brings the same level of care and attention to his staff, and says employee engagement is top of his priority list.
"I've got 823 colleagues and when we get all of them lined up and moving in the right direction, we're unstoppable."
And his approach is paying off, with 97% of staff agreeing "their leaders motivate them" and 90% agreeing it's "the best place to work".
Bunyan has fostered a culture of teamwork and togetherness to help collegaues reach their goals, and he makes sure everyone on the team benefits – earning the store some impressive diversity credentials with leadership 61% female and 27% from BAME backgrounds.
"There were a lot of preconceptions around leadership roles, we had to remove those barriers," says Bunyan.
"Many thought If you weren't full-time or 60 hours a week I can't be a leader – which is very old school. Ability is what counts."
Scott Ward
Sainsbury's Lincoln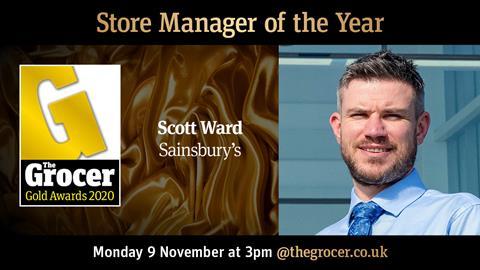 Thanks to manager Scott Ward, Sainsbury's Lincoln is now one of the greenest stores in the Sainsbury's estate.
"When you've got children they come home from school every day and tell you about the plastics in the ocean," says Ward.
"It does prick your conscience."
When an M&S opened nearby with a lot of great marketing around its sustainability credentials, Ward became frustrated that his store wasn't highlighting the steps it had made, like the rainwater harvesting unit and solar power panels.
As a result of his feedback and prodding, Sainsbury's HQ decided to make Lincoln a test bed store for a wealth of environmental trials. It became the first store in the estate to introduce reverse vending machines, replace single-use plastic fruit & veg bags for reusable ones and install make-up recycling units.
"I couldn't be more proud," says Ward.
"We're the go-to store and I'm now the go-to manager for all things environmental."