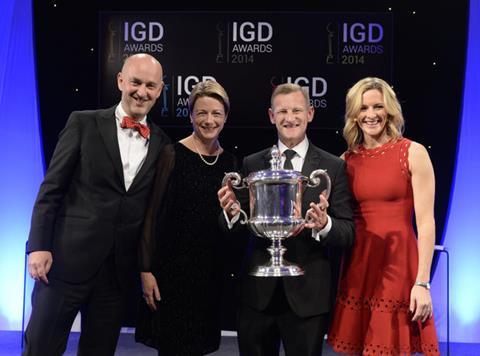 The IGD has launched its annual IGD Awards for 2015.
There are 14 awards, including The Grocer Cup. Last year it was presented to Steve Rowe, executive director for food at M&S, by editor of The Grocer Adam Leyland.
There is also the IGD Leading Edge Leading Light Award, which is sponsored by Premier Foods and recognises outstanding young talent in the industry.
Last year's winner of the Leading Light award, Pippa Rodgers from Waitrose, waltzed away with a cheque for £2,000.
"I would definitely encourage others to enter," said Rodgers. "You've got nothing to lose and simply taking the time to document what you have achieved is time well spent. It gives you an opportunity to review and share what you have contributed so far, demonstrates how others are keen for you to have an impact and spurs you on to achieve even more."
Rodgers spent a year with Waitrose as part of her university placement for a degree in marketing.
"The support I had from my team at Waitrose was great, particularly from my mentor Nikky Gamble, who has worked for the company for 25 years and empowered me to make changes and really believe in myself," she said.
"And becoming a finalist provided an excellent opportunity to present to industry experts and was a fantastic experience – great for my CV. Winning transformed my future prospects and as a result, I have secured a place on the Mondelez International Sales & Marketing Graduate scheme, starting this September. The IGD Award gave me a great confidence boost in explaining to employers why they should hire me. Having this on my CV has allowed me to back up my capabilities and really stand out in such a competitive employment market. Thanks to the Waitrose and Leading Edge teams, I now have a career in front of me doing what I love, and the experience of two amazing companies."
Other than the Leading Edge Leading Light award, the closing deadline for entries is 29 May, with finalists announced in July and the winners revealed at a ceremony in London on 6 October 2015.
Entries for the Leading Edge Leading Light Award open on 27 March and run until 22 May. The Leading Edge Leading Light finalists will be announced at the Leading Edge Convention on 8 September.