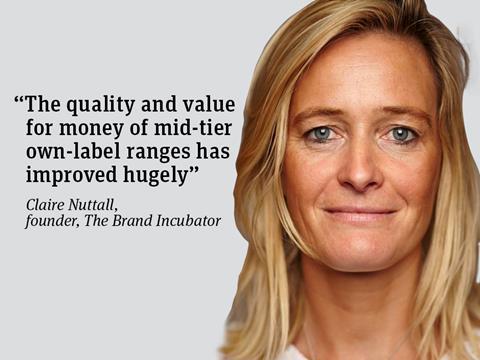 Having recently been involved in judging The Grocer 2016 Own Label Awards, I know first hand just how much the quality of own-label ranges is improving.

The number of entries to the awards keeps growing exponentially each year, and standards this year were exceptionally high - noticeably more so than in previous years.

Mid-tier own-label ranges in particular stood out for me this year rather than the high-end ranges, which was a surprise. Value for money and quality in the mid-tier was a common talking point among judges.

The taste and texture of mid-tier versus top-end ranges was incredibly close.

On occasion, it was hard to discern between the two, and our final judgement often came down to simple nuances of premium ingredients rather than anything more interesting and differentiating.

In a few cases,, some mid-tier entries were perceived to be far superior to the top ranges.

I suppose it is getting harder for premium ranges to pull themselves apart from mid-tier ranges, particularly in the ready meals space, as everything is becoming so much foodier and on trend. Both tiers need to deliver on taste, texture and experience, so where do they go next?

Health credentials could be a potential differentiator as could be a greater focus on unique and genuinely inspirational packaging.

Indeed, more focus on structural packaging generally - something that would bring convenience, an enhanced eating experience and authenticity - would be a great way for other own-label product ranges to get noticed and inspire purchase. Indian meals, for example, is such a cluttered area with many products much of a muchness, so the category could really benefit from innovation beyond just more new recipes.

Another obvious area for improvement is around rice - no matter which retailer range or which quality tier, where rice was included in microwave meals the result was often disappointing. The rice ended up either overcooked, too chewy or rock hard.

These recipes may work in test kitchen conditions, but something needs to be done to stop this happening when they're prepared in real-life situations.

Encouragingly, 2016 has seen a very wide range of retailers putting forward products - including a few new retailers in the mix who had not sent entries in previous years.

It will be fascinating to see who among the new and familiar faces will emerge victorious next Friday (13 May), when the winners are announced.

Claire Nuttall is founder of The Brand Incubator.
For the latest on the Own Label Awards, go to thegrocer.co.uk/events