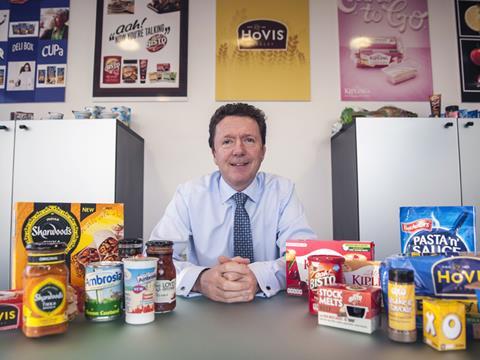 Premier Foods (PFD) CEO Gavin Darby has opted to receive the entirety of his £599k annual bonus in shares, the company's newly released annual report has revealed.
Darby's overall pay packet for the 12 months to 2 April rose to £1.75m, compared with £1.74m in the 15 months to 4 April 2015.
This pro-rata rise was primarily due to an increase in annual bonus during the period to £599k from £307k.
The 2015/16 award represented 57% of Darby's total possible bonus given the "encouraging progress in 2015/16 in delivering its growth strategy".
The annual report stated: "The committee considered trading profit of £131m to be a good performance taking into account the current deflationary market and the increase in investment made in the year, which is crucial to support our future growth plans.
"There was also a significant reduction in net debt and successful delivery of financial savings targets."
Under the terms of Premier's remuneration policy, 25% of any annual bonus payment to Gavin Darby are awarded in the form of shares. However, Darby opted to receive his entire annual bonus in shares in a show of faith that Premier's long-term share price slump will be reversed.
Premier's shares are currently at 41.75p – a third higher than the 31.5p they were trading at before McCormick's interest became public, but well below the 62p they reached during McCormick's pursuit.
Darby's basic salary of £700k per year will remain unchanged after he declined to accept a 1% increase for both the 2015/16 and 2016/17 financial years.
Darby and the Premier board came under public shareholder criticism earlier this year for their handling of the aborted takeover attempts of US food group McCormick, with critics claiming shareholders were not given a say when the board repeatedly rebuffed its indicative bids and instead opted for a co-operation agreement with Japan's Nissin Foods.
Writing in the annual report, chairman David Beever said: "Given the progress we've made, it wasn't altogether surprising that others would take a close interest in the company.
"We took extensive advice on the valuation of the company and we were clear that the indicative offers from McCormick undervalued the Company and our significant growth prospects."
He said he recognised the some shareholders were "disappointed" that a firm offer from McCormick did not materialise, but added: "Gavin Darby and I have held a number of meetings with our largest shareholders to explain our growth plans in more detail and we believe the majority appreciate our ambitions for Premier Foods and are supportive of these growth plans."