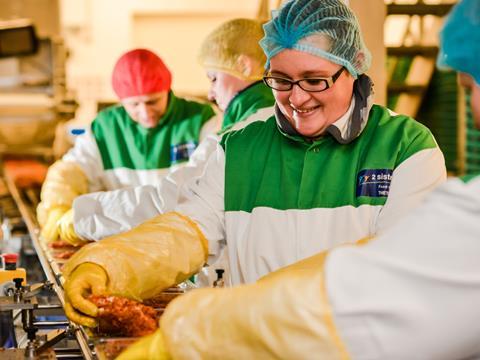 Sales at 2 Sisters owner Boparan rose 0.6% to £784.5m in its third quarter in what CEO Ranjit Singh called "another positive performance".
Group like-for-like sales slipped 0.9% to £779.7m during the quarter, but operating profit was up 15.9% to £18.9m and like-for-like operating profit up 13.2%.
Profits after exceptional items, but before interest and tax fell 20.9% from £20.6m to £16.3m.
Net debt rose by £31.3m to £742.3m.
Ranjit Singh, 2 Sisters Food Group CEO, said: "This is another positive performance, with the progress we experienced in previous quarters continuing and the Group improved total sales and operating profit, despite the volatile grocery market, deflationary pressure and uncertainties around the EU Referendum.
"As we continue to deepen customer relationships, we have delivered further successes throughout our business with new contract wins and new product launches."
Like for like sales in its protein division in Q3 were down 2.6% at £533.3m, with operating profit slipping from £9.4m to £8.9m.
2 Sisters said this like for like sales decline was as a result of continuing price deflation, combined with a temporary loss of sales in red meat. "However, we have continued to cement our strong position with leading customers by offering them new products," the group stated. These products include new frozen products with a national high street frozen retailer and brands Posh Butcher and Welsh Butcher have been launched into Europe.
Its chilled division saw like for like sales increase by 2.3% to £148.7m and operating profit up 44% to £2.6m, driven by improved market share and new product launches.
The Branded division "continued to perform well" in the quarter with like for like sales up 4.5% to £91.0m and operating profit increasing by 35% to £10.4m.
The group stated: "The steady progress continues and performances across our business show that our commitment to efficiency, innovation and investment to drive profitable sales is starting to pay off.
"Despite the volatile grocery market, increasing cost pressures and the uncertainty arising from the EU referendum, our Better Before Bigger strategy remains on course and we remain cautiously optimistic that we will continue to deliver for the remainder of this financial year."