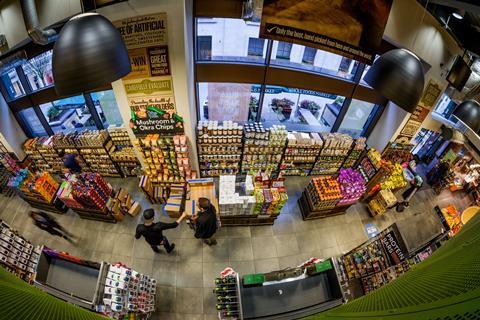 Amazon has confirmed it will repay the business rates relief on its Whole Foods Market stores, joining a flurry of retailers in doing so.
The sum being paid back will total £2,047,471, according to analysis by Altus Group.
The e-commerce giant has seven physical Whole Foods stores in London. Around half of the relief to be repaid comes from its Kensington High Street store, which received £1,026,760 in relief, according to Altus.
In written evidence to a parliamentary inquiry last January, Amazon said its UK sales amounted to £8.77bn and it paid business rates on about 94 buildings and on a number of locker sites in the UK. It said it paid UK business rates of £63.4m, almost £40m less than Next, despite clocking up more than double the sales in the UK.
Amazon has this year seen sales across several grocery categories soar.
Tesco, Sainsbury's, Asda, Morrisons, Aldi, B&M and Lidl were among the retailers announcing they were paying back the relief last week. Together with other essential retailers, the total they are giving back to Treasury is estimated at £2bn.
While retail chains must pay rates across large estates of bricks and mortar stores, the rates burden for likes of Amazon, which operates a handful of vast warehouses, is far less. Tesco by comparison is refunding £585m in rates.
That's led some to back an online sales tax or levy. Former Tesco CEO Dave Lewis has called for a 2% levy on the online sale of physical goods, which he says would raise around £1.5bn. The cash should be used to fund a 20% cut in business rates for all retailers, he argued.
Not all retailers are returning the relief. Variety discounter Poundland argued it should not be judged on the same terms as retailers who saw business boom in lockdown "like the supermarkets or Amazon".