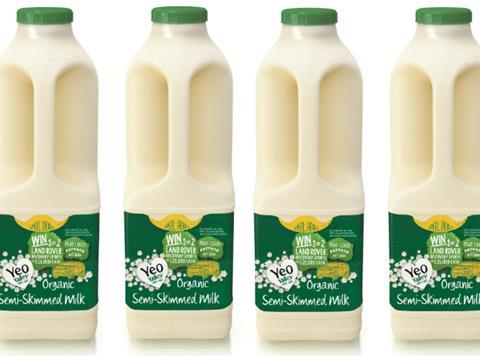 Top story
Farmer-owned Arla Foods has agreed to acquire the Yeo Valley dairy business as it seeks to cash in on growing consumer demand for organic produce.
The Yeo Valley yogurt, ice cream, cream and desserts business will continue to be run independently through Yeo Valley Group, which remains under the ownership of the Mead family.
The deal – for an undisclosed price – gives farmer-owned dairy co-operative Arla the rights to use the Yeo Valley brand in milk, butter, spreads and cheese under an intellectual property licence with Yeo Valley.
"The potential for future investment in range through this licensing agreement with Yeo Valley provides a significant opportunity to offer a greater choice to consumers at attractive prices," said Arla Foods MD Tomas Pietrangeli.
"Our ambition is to encourage customers to trade up from standard to organic milk, butter and cheese, driving overall growth for organic across dairy categories."
The deal comes after a report by the Soil Association revealed yesterday that organic sales rose 6% to hit an all-time high of £2.2bn in 2017, with dairy products claiming the biggest share of the market, approaching 29% of all organic sales.
Arla added this morning that there was an opportunity for the dairy sector to convert more of its customers from standard to organic dairy. It plans to invests in innovation and range under both the Yeo Valley and Arla brands.
Pietrangeli said: "Arla Organic Free Range milk has driven 60% of all the growth within the organic milk category in the last 12 months, with 70% of all Arla Organic Free Range milk sales attributable to customers who would have not previously purchased organic milk.
"Through the licence to use the Yeo Valley brand, we believe that we can further drive organic penetration of the milk market."
Yeo Valley owner Tim Mead said Arla's farmer-owned credentials were aligned to the values and ethos that the Yeo Valley brand was based on: "Supporting British Family Farms".
"We have a long-held ambition to grow organic dairy in the UK, because at Yeo Valley, we believe that organic dairy is better for the planet, for the cows and for health," he added.
Currently in the UK, only 4% of milk sold in the UK fresh milk market is organic [Nielsen], which compares with far greater shares of organic in the milk market in Germany (10%), Sweden (16%) and Denmark (29%) [European zone data].
"This is a great chance for us to catch up with our European neighbours" Mead said.
Pietrangeli added: "Organic milk has a key role to play as consumers increasingly look for ways to make their diets healthier. Its production without the use of artificial or manufactured herbicides and fertilisers and with high standards of animal welfare are key reasons it is in growth, especially with younger consumers.
"Arla is working with industry bodies to continue to help consumers understand the additional benefits that come with organic milk."
Completion of the transaction will take place following merger approval by the UK Competition and Markets Authority.
Morning update
Investment behind long-term development will hold back profits at Tate & Lyle's (TATE) specialty food ingredients division in the second half, the group said in a short trading update this morning.
The group saw volume momentum in its speciality food ingredients and bulk ingredients divisions in the three months to 31 December 2017 and remained on track to deliver progress in adjusted profit before tax in constant currency for the year ending 31 March 2018, in line with guidance.
In speciality food ingredients, the core business delivered "good" volume growth, including a continuation of modest volume growth in North America, Tate said.
In food systems, profit improved although volume was lower. Splenda Sucralose performed as expected with profit in line with the comparative period.
"In the division overall, decisions taken in the first half, particularly to invest behind the longer term development of the business, will moderate profit growth in the second half," Tate added.
In bulk ingredients, sweetener volume in North America grew and profit growth is currently expected to be "robust" for the financial year ending 31 March 2018. The 2018 calendar year bulk sweetener pricing round is now substantially complete with margins broadly in line with the previous year.
Shares in Tate sank more than 3% to 633p as markets opened.
Strong double-digits growth at Ella's Kitchen and Tilda helped Hain Celestial rack up a 12% hike in UK sales to $238.2m in the US group's second quarter.
In the three months to 31 December, Tilda registered 13% year-on-year growth, Ella's jumped 15% and Hain Daniels was up 12%.
Group sales rose 5% overall to $775.2m in the quarter – 2% on a constant currency basis – thanks to gains in the UK, Canada and Europe. However, lower growth in its domestic US market held Hain back in the period.
Reported adjusted net income jumped 30% to $42.7m, while EBITDA increased 2% to $61m.
"We are pleased with the increase in net sales and profitability across our international business segments for the second quarter along with contributions from various brands in the United States, which reflects our well-diversified geographic portfolio," CEO Irwin Simon said.
"Our team remains intently focused on generating the growth we believe we are capable of achieving from our brand building efforts.
"Throughout our organization, we continue to make progress on our long-term strategic priorities and Project Terra cost savings initiatives. As we look to reduce complexities across our business and drive greater efficiencies, our team has already identified specific opportunities to simplify our brand portfolio near-term to enhance stockholder value, positioning Hain Celestial for future growth."
Hain added in the second quarter earnings update that it was exploring of its Hain Pure Protein business, which generated sale of $159m in the quarter.
"The company cannot give any assurances that this will result in any specific action or regarding the outcome or timing of any action," Hain said. "The company does not intend to comment further regarding the potential divestiture at this time."
Shares in Hain are down almost 5% to $34.69 since the release of the results yesterday afternoon.
Yesterday in the City
The FTSE 100 rallied yesterday as global markets moved into recovery mode following massive sell offs on Wall Street earlier in the week. London's blue-chip index leapt 138 points – or 1.9% – to 7,279.42.
FTSE 100 constituents British American Tobacco (BAT), Diageo (DGE), Associated British Foods (ABF) and Unilever (ULVR) were back in the black, rising 2.8% to 4,645p, 2.5% to 2,466.5p, 2.2% to 2,667p and 1.8% to 3,891.5p.
Sainsbury's (SBRY), Morrisons (MRW) and Tesco (TSCO) were also up 2.1% to 242.2p, 2% to 217.8p and 1.3% to 202.5p.
Outside the FTSE 100, Cranswick (CWK) jumped 4.4% to 3,060p, Greencore (GNC) rose 3.8% to 192.8p and SSP Group (SSPG) increased 3.1% to 612.5p.
Tate & Lyle jumped 3.1% to 653.4p ahead of this morning's third quarter results.
Carlsberg wasn't among the day's winners as investors fretted over worse-than-expected results and the outlook for currency losses as the pound continued to strengthen. The Danish brewer's profits were hit by a heavy writedown in Russia as the group was hit by a ban on beer being sold in certain size plastic bottles. Shares in Carlsberg fell 3.3% to DKK 717.50.