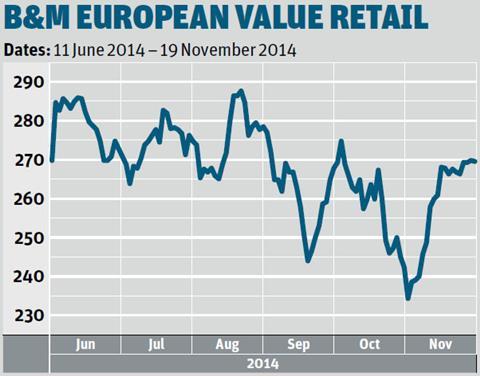 Most grocery retailers would kill for any kind of growth at the moment, let alone the near-30% first half revenue boost reported by B&M Bargains Value Retail on Tuesday.

The discount chain, chaired by Sir Terry Leahy, saw group sales rise 29.7% to £739.8m for the six months to 27 September, with UK revenues up 19.4% representing like-for-like growth of 4.8%. It opened 20 new stores in the period, and is on track for at least 50 new openings this financial year and is in discussions with six large unnamed retailers to acquire more stores.

"Investors who backed the IPO back in June will be delighted by the strong interim results," noted retail analyst Nick Bubb, pointing out the like-for-like growth was achieved against strong comparatives and unhelpful September weather. But the share price barely reacted to the strong results and growth plans, rose ising just 0.1% by Wednesday evening to 270p - exactly the level the company floated at earlier in the year (though it has recovered from the year-low of 227p recorded in late October). "The City discounts future growth and, the fact is the valuation of the group was pretty full back in June, and the strong first half growth of B&M was actually only in line with analysts' expectations," Bubb explained.

Another retailer to see a muted share price reaction to encouraging results was Majestic wine, which announced a rise in first-half revenues of 2.8% to £133.8m on Monday as UK market share edged up to 4.3%. Pre-tax profits fell by 10% to £8.5m amid tough competition and increased investment, but this decline had been well flagged due to infrastructure investment weighted in the first half. Investec analysts upgraded the stock to 'buy' from 'add' arguing the like-for-like sales rise "should reassure that the core business is healthy and solid". But investors seemed less convinced. Majestic fell 1.1% on Monday and ended Wednesday at 357p, 2.5% down on last week's closing price. The shares have now lost more than 20% of their value over the past six months.

Elsewhere, Reckitt Benckiser announced ing the float of its pharma business on Monday. The new firm, Indivior, will begin trading on December 23 if RB shareholders give the plan the go-ahead. Bernstein analysts argued that RB will benefit from the spin-off, writing: "Uncertainty surrounding the future of RB Pharma has been a significant investment controversy weighing on RB's stock for a number of years". Despite that, but RB's shares were 1.8% down by Wednesday night at 5,230p. on investor caution over the IPO plan.