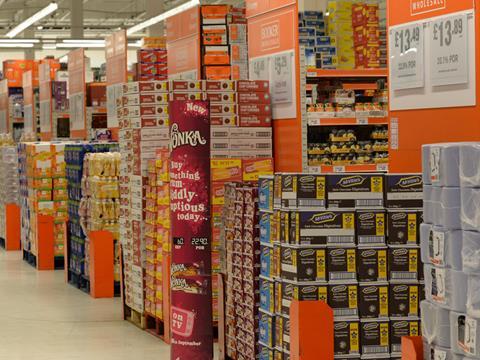 Booker has been a standout City performer over the past year, but its shares fell this week after posting "subdued" first quarter numbers.
Booker was down 3.6% to 156.9p on Wednesday after the wholesaler revealed group-wide like-for-like growth of 0.4%. Booker called this first-quarter performance "solid", as total sales grew by 0.2% and non-tobacco like-for-likes (including Makro) rose by 1% in the 12 weeks to 19 June. Like-for-like growth in the non-tobacco lines was 1%, dragged back by a tobacco LFL sales decline of 0.9%.
Shore Capital analysts suggested the results represented "a subdued trading performance". However, the broker noted this was the first time Booker had reported LFL sales including Makro, and on an equivalent basis management said the average non-tobacco LFL through Q2-Q4 2015 was 0.9%. Shore said this figure "gives us comfort that trading has been in-line with expectations and recent trends". Booker shares were back up 1.1% on Thursday to 162.3p and have now risen by more than 26% year on year.

Wednesday was a better day for posh drinks mixer supplier Fever-Tree, as its shares climbed 9% after announcing a 61% rise in first half sales. The shares were up another 4.2% on Thursday morning to set a new record high of 334.5p, well over double its 134p IPO price last November. The shares were driven higher by Fever-Tree's pre-close trading update for the six months ended 30 June, which said it anticipated seeing sales of £24m in the first half of the year - growth of 61%.

Investec raised its target price from 240p to 320p on the guidance, noting that "first half profits should advance by a similar amount". The broker said: "Fever-Tree's 1H update continues to show very strong revenue growth, although potentially benefiting to some degree from importers' inventory build ahead of the summer."

Associated British Foods' stock shot up 5.5% to 3,092p as it expands its Primark empire into Italy. Total sales were up 2% in the 40 weeks to 20 June - but flat after currency headwinds - with the sugar business still giving ABF headaches.