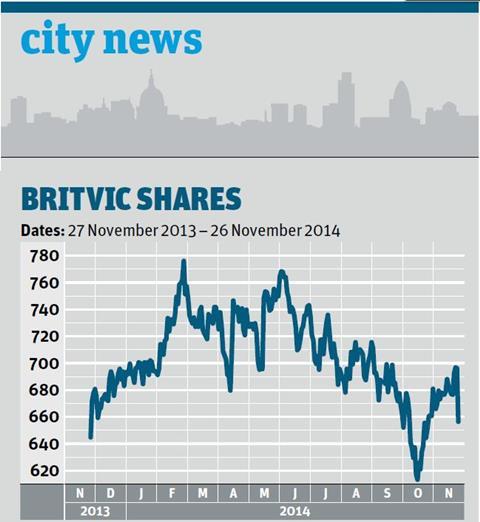 The buzz from Britvic's fizzing annual profit growth went decidedly flat this week as investors drove down the drinks maker's share price on concerns over current and future trading.

The Robinsons manufacturer has been one of the few UK food and drink stocks to see share price growth over the past year and at first glance posted another set of solid results on Wednesday. Full-year pre-tax profits beat expectations, rising 17.6% to £158.1m, while revenues increased 2.4% to £1.34bn and volumes grew by 1.5%.

However, Britvic shares slumped 6% to 655p by close on Wednesday on investor concern that a revenue slowdown was more significant than just the poor summer. Britvic had already announced that fourth-quarter sales fell by 4%, affected by strong year-on-year comparatives and the disappointing summer, but CEO Simon Litherland warned: "The year has begun slowly, reflecting the increasingly challenging trading conditions."

Brokers were less disturbed. Shore Capital restated its buy recommendation on the stock and said there were "no major surprises" in the update and it remained on course to hit 2015 profit targets. The shares rebounded somewhat in early trading on Tuesday to 674p.

Elsewhere, Poundland was up 2.6% to 318.1p on morning trading on Thursday after the discounter reported an 11.7% rise in pre-tax profit to £9.3m on sales up 15% to £528.2m. Like-for-likes moved 4.7% higher compared with 0.8% for the same period last year and the discounter is on track to open 60 net new shops in the UK & Ireland in the current financial year. Cranswick and Greencore also received a good market response to their results, rising 6.6% to 1,462p and 8.7% to 278.1p respectively from Monday to Wednesday's close.

The listed supermarkets were driven down on Tuesday by the news that law firm Stewarts Law is representing Tesco shareholders seeking compensation for their share price losses after the supermarket overstated its first-half profits. Tesco fell 2.6% to 188.3p during the day, while Sainsbury's fell 3.9% to 242.4p and Morrisons 3.2% to 181.1p.