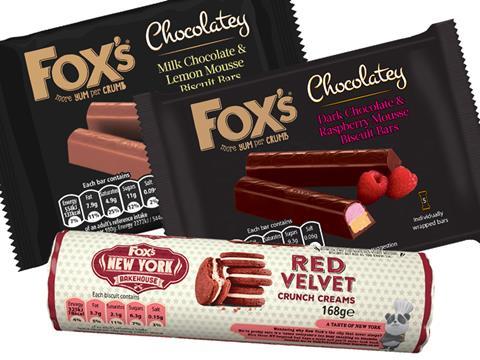 Top story
Wagon Wheels manufacturer Burton's Biscuits is in talks to buy UK contemporary Fox's Biscuits, according to City sources.
The Ontario Teachers' Pension Plan-owned biscuit maker is in early stage talks with 2 Sisters who own Fox's about a deal for that could value the acquisition at around £340m.
The story was broken by Reuters yesterday and separately confirmed by The Grocer. Sources stressed to The Grocer that the talks remained at a preliminary stage and there was no certainty a deal would be reached.
Burton's has been keen to expand its biscuit portfolio and missed out on buying United Biscuits, which eventually was sold to Yildiz in November 2014 in a £2bn deal. It is thought Burton's is keen to expand its range to include healthier snacking options.
Fox's manufacturers Party Rings, Viennese and a range of biscuits and cookies. Burton's makes Maryland cookies, Wagon Wheels and Jammie Dodgers.
Morning update
Nestlé (NESN) has released its full year results this morning, missing its growth target and seeing a significant fall in profitability.
Nestlé delivered organic growth of 4.2% during the year – missing its guidance of 4.5% growth given in October. Total sales were CHF88.8bn, but were hit by a foreign exchange impact of 7.4% because of the relative strength of the Swiss Franc. The food giant saw organic growth of 1.9% in developed markets and 7% in emerging markets.
Net profit fell CHF5.4bn to CHF9.1bn largely due to the impact from the 2014 disposal of part of its L'Oréal stake combined with the revaluation of its Galderma stake. Trading operating profit was CHF13.4bn, with a margin of 15.1%, down 20 basis points on a reported basis affected by the strong Swiss Franc.
Paul Bulcke, Nestlé CEO said: "In 2015 we delivered profitable growth at the higher end of the industry in what is still a challenging environment. This profitable growth was on the back of consistent performances in previous years. Our organic growth of 4.2% was supported by increased momentum in real internal growth combined with continued margin improvement. Additionally, we grew or maintained market share in the majority of our categories and markets.
He warned of even softer pricing in 2016, stating: "We anticipate that our trading environment in 2016 will be similar to previous years with even softer pricing. As such we expect to deliver organic growth in line with 2015, with improvements in margins and underlying earnings per share in constant currencies, and capital efficiency."
Nestlé shares are down 3.8% to €71.20 so far this morning on its forecast miss.
Elsewhere, stevia producer PureCircle (PURE) has hired Rakesh Sinha to take over as chief financial officer from William Mitchell who is retiring. Sinha will join from Unilever where he is currently CFO (Latin America, South and Eastern Europe) at Unilever Food Solutions. Across his 17 year career he has held a number of senior finance and strategic roles in both developed and emerging markets, including finance director of the Australian & New Zealand Ice-cream business and CFO of Unilever Taiwan & Hong Kong.
Looking at the markets this moring, it's been a more sluggish start to trading today after yesterday's share price surge, with the FTSE down 0.6% to 5,992.4pts this morning.
Morrisons (MRW) is one of the day's major risers this morning on the back of more bid rumours, rising 2.2% to 185.4p. Sainsbury's (SBRY) and Ocado (OCDO) have also had a good start to the day rising 1.3% to 264.9p and 0.8% to 265.4p respectively. Premier Foods (PFD) is up 2.6% to 32.3p.
Early fallers include Applegrenn (APGN), down 1.9% to 348p, John Menzies (MNZS), down 1.9% to 420p and PZ Cussons (PZC), down 1.6% to 261.8p.
Shares
There was something approaching rare cheer in the City yesterday as the FTSE 100 surged back through the 6,000 point barrier on the back of rising oil prices.
Iran coming to the table to discuss limiting global oil supply sent Brent Crude up more than 5% and mining and energy stocks responded by regaining some of their lost ground.
It was also a good day for food retailers, many of which saw their share price grow ahead of the market yesterday.
Sainsbury's was up 4.8% to 261.5p after being boosted by an upgrade from Exane BNP Paribas, which said there were potentially more synergies in the Argos deal that Sainsbury's had previously identified.
Tesco (TSCO) was up 3.5% to 186.9p as the media picked up rumours that the UK largest retailer may be eying the possibility of acquiring rival Morrisons. Morrisons itself was up 1.9% to 181.5p.
Other retailers on the up including Conviviality (CVR), up 2.7% to 211.8p, Greggs (GRG), up 2.8% to 1,023p and SSP Group (SSPG), up 4.9% to 282.8p.
Elsewhere, Associated British Foods (ABF) rose by 3.4% to 3,259p, Greencore (GNC) was up 3% to 376.8p and Tate & Lyle rose 2.4% to 560p. Coca-Cola HBC (CCH) was up 3.1% to 1,386 ahead of its trading update tomorrow.