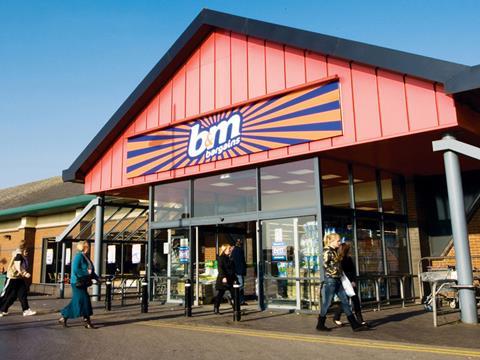 The rise of cost-conscious shoppers has bolstered B&M's annual sales to almost £5bn, sending its share price soaring this week.
Total revenues for B&M European Value Retail jumped 6.6% to £4.98bn in the 52 weeks to 25 March. It means the group has lapped huge post-pandemic gains to take overall sales 30.7% ahead of pre-Covid levels.
Like-for-like customer transactions increased during every month since June in the UK, where revenues were up 4% year on year, mostly driven by new store openings. B&M now has 70 stores in the UK, having opened 21 in the year while closing or relocating 15 sites.
The group's discount frozen food fascia Heron Foods bumped up sales by 18.1%. International sales were also booming, with sales in France up by 22.1% year-on-year, providing "further evidence [of] continued strategic and operational progress as product ranging is evolved".
Despite the boost to the top line, group adjusted EBITDA came down from Covid highs of £619m to £573m – but significantly ahead of pre-pandemic levels of £342m. Group pre-tax profits also fell from £525m to £436m despite "significant" gross margin improvement in the second half.
Meanwhile, in the first nine weeks of FY24, B&M UK like-for-like sales hit a run rate of 8.3%, while momentum continued in France and at Heron Foods. The group forecast full-year adjusted EBITDA would be higher than its 2023 financial year amid the improved momentum.
"B&M has been a major beneficiary of consumers trading down thanks to its expansion in food and grocery," analysts at Third Bridge commented. "B&M faces margin pressure like retailers, however, strong relationships with suppliers help it mitigate this and keep prices competitive."
"The group's new CEO/CFO combination has delivered a strong set of prelims, holding on to most of the profit boost from Covid," Liberum added. "Cash generation remains very impressive, supporting lower net debt… reflecting the strength of the group's value proposition, its lean and capital light operating model, and benefits from the improved store standards and availability already implemented."
Peel Hunt welcomed the "cultural reset" under new management, but warned: "The macro will get better for consumers though and the acid test will be how B&M trades then. The shares reflect mostly good news ahead… but we can't quite see where the rerating comes from."
Shares in the group leapt 8% to 509.8p on the news of higher projected profits this year. The shares continued to gain on Thursday, rising another 4.4% to 532p – the stock's highest level since April 2022.