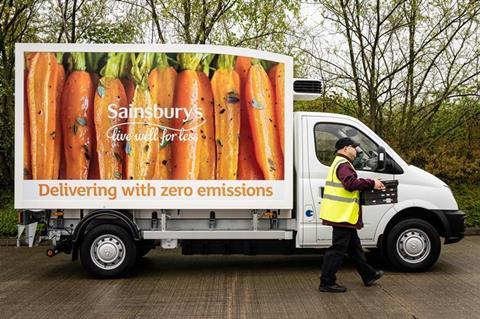 The market is used to supermarkets posting bumper sales during coronavirus, but sector sentiment was further boosted on Thursday by Sainsbury's saying its bumper Christmas sales would also lead to higher-than-expected profits.
The supermarket's third quarter like-for-like sales were up 8.6% (excluding fuel) with total retail sales up 6.8%. Notably its non-grocery sales were far more robust than expected, with clothing rising 0.4% from a 7.5% drop in the second quarter, while GM growth of 6% was boosted by strong 8.4% growth at Argos.
Non-food gross margins were also strong thanks to higher-than-expected full-price sales during the period. Meanwhile, the profitability of its online operations improved as online grocery sales more than doubled in the weeks leading up to Christmas.
These improvements meant it hiked guidance for underlying profit before tax of at least £330m compared with earlier guidance of £270m – albeit still well down on the £586m recorded last year due to it forgoing £410m of business rates
Shore Capital's Clive Black said Sainsbury's online growth to 18% of total grocery sales represented "an amazing advancement" and that "this route to market is now demonstrably profitable, something for sector sceptics to note".
Shares jumped 7% to 248.7p on Thursday and are up more than 10% already in 2021 so far.
Meanwhile, surging online growth also helped Morrisons post group like-for-like sales, excluding fuel, up 9.3% over Christmas and new year period. Like-for-likes were up 8.1% in the 22 weeks to 3 January, driven by strong growth in both wholesale and retail.
However, the sales growth was not enough to move the dial on profitability, with pre-tax profit for the full year still expected to be £420m-£440m as it absorbs extra costs associated with Covid.
Morrisons said sales growth had been supported by price cuts and food price deflation during the period, helping volume growth.
Hargreaves Lansdown analyst Sophie Lund-Yates cautioned: "Sales growth is coming from the pile it high, sell it cheap mentality. It's a method that requires a high number of sales, or margins will suffer. As the vaccine rollout continues and shopping habits potentially start to temper later this year, lower prices could put a lid on profit potential."
Morrisons shares ended Tuesday back 0.7% at 179.8p but it was trading up 4.3% for the week by Thursday lunchtime at 185.1p on sector optimism.