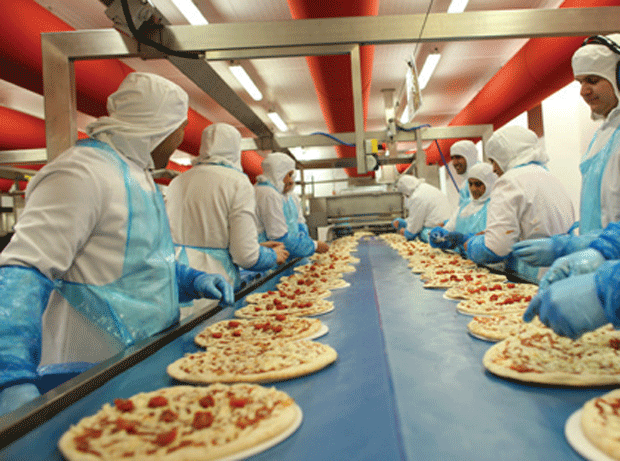 Top story
2 Sisters Food Group is planning a major £150m multi-year investment in its poultry business as it looks to get back into growth after a year of restructuring.
The move, announced in the business's fourth quarter results, follow plans to invest £55m to boost its growing ready meals division, which was revealed along with the Q3 figures.
CEO Ranjit Singh said the investment in poultry would "completely revolutionise" its supply chain end-to-end but details of where the money will be spent are scant.
Total sales at the food giant, the largest UK food and drink player, slipped 13.5% to £756.8m in the 13 weeks ended 1 August compared with the final quarter in 2014, with a like-for-like fall of 3% to £773.6m. Operating profits were also down 26.7% to £22.2m but total profits for the quarter after exceptional items, interest and tax moved back into the black – up £80.7m from a loss of £75.2m to £5.5m.
It put losses for the year, after exceptional items, interest and taxation, at £4.6m, a significant improvement on £143.3m in the read last year. Total sales fell 8.2% to £3.14bn, with like-for-like sales down by 1.7% to £3.2bn. Operating profits for the year were almost 35% lower than in 2014 at £58.8m.
Singh said: "Our aim is to build a better business. During 2015 we focussed on costs, efficiency, investment, innovation and deepening customer relationships. The operating environment for our industry remains tough, but we have seen a consistent improvement in our performance across all our divisions, with a 17.5% increase in life-for-like operating profit to £22.8m from Q3 to Q4.
"Our business transformation continues at pace and with a number of investment programmes in place, I am confident we have the right strategy to meet the needs of our major customers who increasingly demand long-term, dedicated partnerships with their suppliers."
Morning update
Listed packaging supplier DS Smith said trading in the first-half to 31 October had remained in line with expectations. Volume growth was "good" while margins continued to show strong growth. CEO Miles Roberts said in the trading statement: "We are very pleased with the growth in margins, returns and earnings delivered in the year so far. Our outlook remains positive as volumes and financial returns continue to grow, despite no change in market conditions. The board expects continued performance in line with our medium-term financial targets, views the remainder of the year with confidence and remains excited about the opportunities for the group."
Spanish discounter DIA Group posted gross sales under banner of €7.84bn in the first nine months of the year, up 15% in local currency versus the same period in 2014. The group said that in Argentina, Brazil and China, despite the slowdown of those economies and the strong depreciation of the Brazilian real, gross sales under banner reached €2.84bn, up 21% in local currency.
Yesterday in the City
Morrisons (MRW) started the week off positively with its shares rising 0.6% to 176p despite early morning falls. The grocer's stock jumped back into the black following the announcement it was re-entering the convenience market with a pilot in five petrol filling station shops owned by Motor Fuel Group.
Investors weren't convince with wine retailer's Majestic Wine (MJW) strategy this morning with its share price slumping 1% to 351.5p after it revealed it was ditching the six-bottle minimum purchase rule across its store estate and online in a bid to make pricing policy easier. It followed a trial in selected stores since spring.
Other fallers included Marks & Spencer (MKS), down 0.4% to 515.5p, Ocado (OCDO), down 1.2% to 366.4p, and C&C Group (CCR), down 1.8% to €3.80. M&S CEO Marc Bolland revealed his determination to continue leading the high street bellwether despite constant troubles in the clothing division; Ocado came back down to earth a little after big gains of more than 11% last week; and cider maker C&C is set to report half-year figures on Wednesday with analysts expecting that management will present some longer-term strategic thoughts alongside the numbers.
Diageo (DGE) was the top FTSE 100 fmcg riser yesterday, finishing up 1% to 1,877p, and Poundland (PLND) also had a good day, rising 0.7% to 281.9p.
London's leading shares came down from two-month highs as TalkTalk's cyber woes brought down its shares. The index finished the day 27 points down (0.4%) to 6,417.