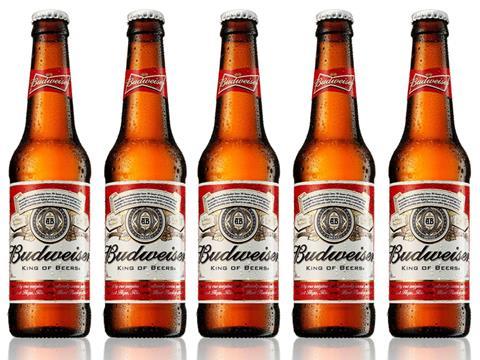 Top stoy
Brewing giant AB InBev has scaled back its guidance for the year after a "very weak" performance in Brazil held back sales and profits in the third quarter.
Revenues grew 2.8% at the Budweiser owner on an organic basis to $11.1bn, but were down compared with a year ago as a result of currency fluctuations.
Volumes fell in the quarter by 0.9% to 121,000 hectolitres, mainly because of a 4.1% decline in Brazil where there is continued pressure on consumer disposable income.
The performance in Brazil also contributed to a 2% fall in EBITDA to $4bn.
Combined revenues of AB InBev's three global brands, Corona, Stella Artois and Budweiser, grew by 8.7% in the quarter, led by a 14.8% jump for Corona with growth of 14.8%, with Stella up 12.2% and Bud 4.8%.
AB InBev said it expected revenue growth per hectolitre to be in line with inflation, downgraded from forecasted growth ahead of inflation because of the difficulties in Brazil.
"Most of our markets delivered solid volume, revenue and EBITDA results in Q3," the Belgiam brewer added.
"However, these results were negatively affected by a very weak quarter in Brazil, driven by the challenging consumer environment, a tough 3Q15 volume comparable, and the impact of unfavourable foreign exchange transactional hedges on cost of sales."
In Europe, own beer volumes were down 2.6% in the three months to end of September, with net revenue up 3.1%, driven mainly by the growth of the premium brands. UK volumes grew by low single digits, driven by strong performances from Budweiser and Corona.
There was little information about the £79bn combination with SABMiller in the results. The statement said: "We are very pleased to have successfully completed our combination with SABMiller. The rationale is extremely compelling. It brings together two great companies to create the first truly global brewer, and one of the world's leading consumer products companies."
A trading update for SAB within the results showed total volumes at the retained business fell 3% in the three months to 30 September, with lager volumes down 2%. However, net revenue grew by 5% to $3.1bn.
Morning update
Consumer confidence slipped again in October as Brexit fears hurt optimism in the UK economy. GfK's long-running index decreased two points this month to -3. However, shoppers are not afraid of spending, with the major purchase index rising five points to +14 as Black Friday and Christmas looms into view. Consumers personal finance views of the last 12 months and the next 12 stayed in positive territory of +3 and +6 respectively. But the general economic situation for the past year and the next fell three points and eight points to -19 and -17.
"Declining optimism about economic prospects for the wider UK economy has depressed the consumer mood this month," said Joe Staton, head of market dynamics at GfK.
"Despite the continuing feel-good factor arising from persistent low interest and inflation rates, sterling's sharp decline is arguably stoking fears that price rises will hit UK living standards hard next year.
"This month also continues the upward trend on spending intentions with high levels of agreement in the major purchase index. This shows that many consumers agree now is the right time for people to spend. So, with Black Friday approaching and Christmas trading already underway, will the remainder of 2016 see halcyon days for retailing? Are we gearing up to shop now and pay later amid concerns over rising high street prices?"
Conviviality Retail is entering a supply agreement with UK wholesaler Palmer and Harvey McLane (P&H), the UK's leading delivered wholesaler. Under the initial two-year deal, the retail arm of Conviviality will supply P&H's national distribution centre with beers, wines and spirits. In return, P&H will supply the Bargain Booze network with tobacco. Conviviality said the agreement would help drive efficiencies in its buying capability while further utilising its nationwide distribution network.
"We are constantly looking at ways to ensure we provide the right range, service, support and pricing for our franchisees," Conviviality Retail MD David Robinson said. "This agreement will help us to maintain and further improve our ability to invest in future initiatives and pricing to provide our franchisees with more opportunities to strengthen their business. We look forward to working with the P&H team on this exciting initiative for both our businesses."
Yesterday in the City
C&C group (CCR) shares fell 0.7% to €3.53 as the cider maker warned the market that of post-Brexit wobbles. Currency volatility and consumer uncertainty after the UK's vote to leave the EU hit first-half sales and profits, down 8.1% in the six months to 31 August to €307m and 7.9% to €55.1.m respectively.
Ocado (OCDO) had a good day, with the online grocer's stock rising 2% to 279.8p; Science in Sport (SIS) was up 3.7% to 63.8p as CEO Stephen Moon invested £25k buying 40,983 ordinary shares for 61p each; and Premier Foods (PFD) bounced back from its Jefferies downgrade to jump 4% to 45.3p.
Cranswick (CWK) was among the day's fallers, down 1.1% to 2,237p, as was SSP Group (SSPG), down 0.8% to 337.1p, and Greggs (GRG), down 0.7% to 956p.