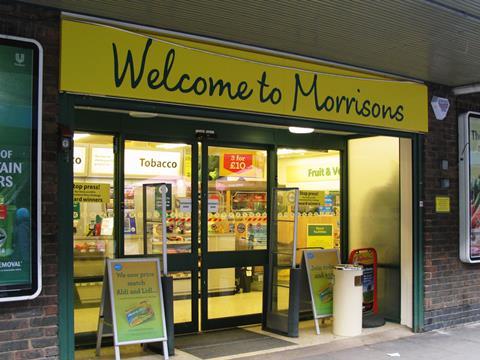 Top story
Morrisons (MRW) has appointed former Tesco director David Potts as its next chief executive. Chairman Andrew Higginson said Potts was the "best retailer" he had worked with in 25 years in the industry.
Potts will start the monumental task of attempting to turn around the fortunes of the struggling grocer on 16 March. Morrisons confirmed Potts will be paid £850k a year – the same amount as his predecessor Dalton Philips, who was fired earlier this year. The appointment followed a "thorough selection process", both in the UK and overseas, Morrisons said.
Chairman Andrew Higginson said that with Potts alongside CFO Trevor Strain, who has been in charge on an interim basis, Morrisons now had the "makings of a good team."
"I am delighted to welcome David as our new CEO," Higginson added. "David is the best retailer I have worked with in 25 years in the industry. Having worked alongside him for 15 years, I know he will bring to Morrisons a focus on the customer, a track record of delivery, flair, talent, and immense energy to his new role. He will lead our colleagues in the business from the front, and with distinction."
Potts, 57, has more than 40 years' experience in grocery retailing. He began his career with Tesco in 1973, rising to become retail director in the UK and CEO of its Irish businesses, and also took on the role of CEO of its Asian business. Since leaving Tesco in 2011, he has acted as a retail expert to several international advisory and private equity businesses.
"Customers and Morrisons are a great combination to serve," he said. "This is a great British business with real potential and it is an honour to have been selected."
Broker firm Shore Capital has reacted quickly to the news, welcoming the appointment, and upgrading the retailer's stock from 'hold' to 'buy'. Clive Black said the close relationship between Potts ("a highly experienced and effective retail operator") and Higginson was "crucial" and also commended Strain's performance over the past two "difficult" years.
"We believe that David Potts' expertise on the UK market made him the prime candidate for the role and it is not a surprise to our minds that he has been appointed," Black added. "We believe that he will bring focus and pace to Morrisons, a business where in tandem with Messrs. Higginson and Strain we view the current strategy as being correct but the execution in particular needs correction.
"Morrison is entering an interesting phase of its development as a stock. Whilst everything isn't honky-dory, if it were Potts would not be appointed, the business has a more appropriate business strategy and very favourable multi-year comparatives. We believe the insights and emphasis that a very fit and sharp eyed Potts will bring should create a firmer basis for an improvement in sales at the company, and we know that the market is particularly sensitive to sales momentum in retail at this time.
"As such we believe that Morrison stock can bounce to shareholder benefit. We are sensitive to the scope for a new CEO to 'kitchen-sink' but we feel much work has already been done in this respect at Morrisons. Whilst indebted Morrisons has a high freehold store participation and a manageable pension position relative to its superstore peers. As such we upgrade our 'hold' recommendation to a 'buy' in the belief that the stock can outperform the sector in the near-term and, with good execution, thereafter."
Morrisons share price has opened 1.5% up this morning at 194.6p, getting close to January's high of 199p – which was the highest it has been since June 2014.
Morning update
Irish performance nutrition and ingredients group Glanbia (GLB) has reported a fifth consecutive year of double-digit earnings growth in the 12 months to 3 January 2015, which it put down to "strong strategic execution".
Total group revenue was up 6.9% over the previous year to €3.52bn, driven by its fast-growing performance nutrition division, where 13.5% growth in sales and a 120 basis point margin expansion pushed up EBITA 26%. Glanbia also said its ingredients arm put in a "satisfactory" performance in the context of a challenging dairy market with EBITA of €100.4m, broadly in line with prior year
"Our focus on two scale growth platforms, global performance nutrition and global ingredients, continues to drive earnings as we leverage our market leadership and sector expertise," group managing director Siobhán Talbot said.
"The outlook for 2015 is positive and we are guiding 9% to 11% growth in adjusted earnings per share. We continue to successfully execute our growth strategy and this positions Glanbia well for the delivery of our objectives from 2015 to 2018."
Shares in Glanbia have jumped 5.7% so far this morning to €15.5.
Fashion retailer Supergroup hasn't quit had such a good morning as its CFO Shaun Wills has been forced to step down immediately after being declared bankrupt. Supergroup stressed it was a "personal matter" and "wholly unrelated" to the financial position of the company, which was trading in line with guidance. Nick Wharton, previously CEO of Dunelm Group and CFO of Halfords, has been appointed as interim CFO from today. The retailer's stock has fallen 2.4% to 990p so far today.
Elsewhere on the markets, Morrisons big news also seemed to give a lift to rivals Tesco (TSCO) and Sainsbury's (SBRY) with the pairs' share price up 1.9% to 242.8p and 0.6% to 271.5p respectively this morning.
Yesterday in the City
The main market news yesterday was the record high for the FTSE, which topped a level last achieved during the height of the dotcom boom. Following the approval of Greek economic plans by eurozone finance ministers, the FTSE 100 closed the day 0.5% up at 6,949.6pts.
The FTSE's grocery firms weren't amongst the highest risers - in fact, Tesco was one the FTSE 100's larger fallers, dropping 1.2% to 237.5p. The better FTSE 100 performers included SABMiller (SAB) (up 1% to 3,695.9p) and M&S (MKS) (up 0.9% to 504p).
Kerry Group (KYGA) ended the day flat (0.4% up at €64.61) after releasing its annual results, but recovered from dipping 2.5% in early trading to below €63. Kerry reported a 1.4% decline in full revenues, but this represented organic, constant currency growth of 2.4%. Kerry also announced the purchase of UK premium hot dog maker Rollover. Investec called the results "solid".
There was far more dramatic share price movement for butchery group Crawshaw, which saw its shares leap 19.2% to 45p yesterday. The independent butcher reported a 5% rise in its like-for-like sales in the year ended January 2015 and said it expects a "materially" better result than originally forecast. The shares have now risen by 60% over the past year.
Elsewhere, newsagent group McColl's was 5% up to 180p yesterday, while Thorntons and Nichols were down by 3.3% to 74.5p and 3.2% to 1,072p respectively.