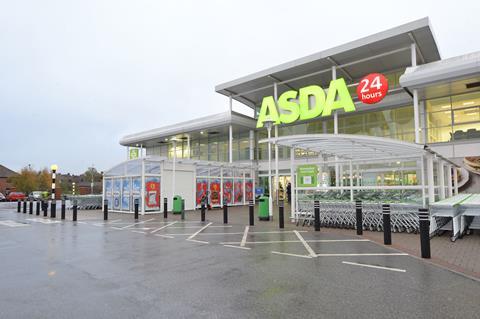 Top story
After a busy week dominated by the Tesco interim results and the high-stakes poker being played by AB InBev and SABMiller, Asda quietly published its accounts for 2014 to Companies House showing that despite the worrying decline in sales profits have been holding up nicely (click here for the full story).
The only one of the big four supermarkets still in private hands managed to push operating profits up 1.9% to £1.01bn last year as it escaped the eye-watering property writedowns which blew holes in Tesco, Morrisons and Sainsbury's bottom line.
Asda booked just £4.3m in impairment charges on its property portfolio in 2014 compared to a combined £6bn+ which dragged Tesco (£4.7bn), Sainsbury's (£628m) and Morrisons (£1.3bn) into the red in their most recent financial years.
However, revenues still fell 0.4% to £23.2bn – and down 1% on a like-for-like basis – as food price deflation and a brutal price war took its toll on the retailer. Asda spent £300m to lower prices of everyday items such as bread, milk and butter during the year as it sought to close the gap with discounters Aldi and Lidl.
The slide in revenues was a sign of things to come as a 2.6% slump in like-for-like sales in the fourth quarter of 2014 widened to 3.9% in the first three months of 2015 and to a historic low of 4.7% in the second quarter.
Read thegrocer.co.uk for the full story of Asda's 2014 financial year.
Morning update
Sales held steady at Waitrose in the week ending 3 October as the supermarket registered £124.5m in the ninth week of the second half. It left the retailer 1% ahead of where it was at the same time a year ago. Personnel director Helen Hyde said the unseasonably warm and sunny weather saw traditional summer favourites such as Pimm's No.1 Cup faring well, up 34%, and Champagne rising 16% year on year. She added Australian wine sales increased by 39% compared to this time last year and beer sales were up by 7% thanks to the Rugby World Cup.
Finsbury Food Group (FIF) announced the appointment of Melanie Cox as company secretary with immediate effect. She was previously group company secretary of oil and gas business Expro International Group for seven years.
Yesterday in the City
Tesco (TSCO) spent another day among the top risers of the FTSE 100, making another 2% of gains to finish the day at 201p. It follows investors seemingly taking CEO Dave Lewis at his word that the turnaround is working. This is despite operating profits plunging by more than 50% in the first half to £354m. Lewis himself was one of buyers of the stock, finally putting his money where his mouth is and his hand in his pocket to the tune of £200,000 (the full story is here).
Morrisons (MRW) and Sainsbury's (SBRY) also continued to bask in the turning tide of positive sentiment for the supermarkets. Shares in the pair were up 1.5% to 177.7p and 0.5% to 273.3p respectively.
It means the three listed grocers have risen more than 20% each for Tesco and Sainsbury's and by more than 15% for Morrisons in the past week.
Ingredients business Tate & Lyle (TATE) didn't fare so well, with its share price falling 1.8% to 569p despite reaffirming its full-year earnings guidance in a six-month trading statement after seeing volume growth in its key sucralose business.