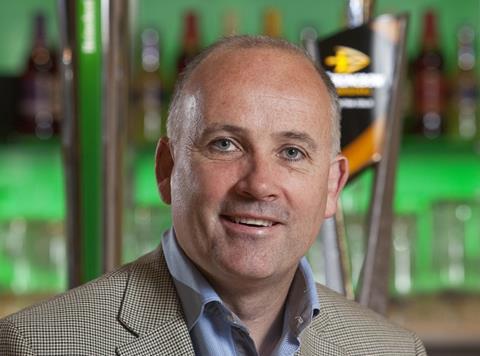 C&C Group has appointed Heineken UK MD David Forde as group CEO, joining in 2021.
Forde has served as managing director of Heineken UK for the past seven years and will join C&C at the latest in early 2021, following the completion of a customary notice period.
He has worked with Heineken for 32 years and has extensive experience in senior leadership positions across the business, starting in sales and marketing team and moving to become MD of Poland and then general manager of Heineken UK in 2007.
He played a key role in Heineken's acquisition of Scottish & Newcastle in 2008 and the subsequent integration of the two businesses.
Forde's appointment follows the stepping down of former CEO Stephen Glancey in January and a process led by executive search firm Spencer Stuart.
Following Forde's appointment as CEO, the board has requested that Stewart Gilliland continue in his role as interim executive chairman until he joins C&C at the latest in early 2021, at which time Gilliland will revert to the role of non-executive Chairman.
In addition, the board has extended his role as non-executive chairman by an additional 12 months until the AGM in 2022 to provide continuity of leadership for C&C following the appointment of a new group CEO and group CFO.
Meanwhile, C&C has also announced the appointment of Patrick McMahon, current group strategy director, as group chief financial officer to succeed Jonathan Solesbury who intends to retire with effect from 1 September 2020.
Gilliland commented: "The Board is delighted to announce David Forde as our new Group CEO. Following a thorough evaluation of exceptional candidates for the position, we believe David has the requisite blend of brands, distribution and pub sector expertise to maximise the potential of our iconic brands and optimise the potential of our distribution capabilities.
"In Paddy we have a Group CFO with an inimitable understanding and experience of our business. His progression through senior leadership positions within the business and integral role in the transformative Matthew Clark and Bibendum transaction make him the natural successor to Jonathan and ideal fit for this position. The Board would like to thank Jonathan for his significant contribution to C&C over the past three years and we wish him well for the future."
"As we navigate the current challenges and uncertainty of COVID-19, these appointments represent an exciting new era for C&C which we believe will deliver long term value for all our stakeholders."
Forde added: "I am extremely excited to be joining C&C, a company with great people, loved brands and a world class distribution infrastructure. I look forward, together with my new colleagues and the Board, to further building the business into the future."
Morning update
Sports nutrition specialists Science in Sport has posted pre-close trading statement for the six months to 30 June 2020.
Group revenue for the period was £23.6m, down 5% on last year reflecting the severe second quarter disruption caused in all markets by the COVID-19 pandemic.
Science in Sport delivered revenue of £11.9m, down 5% while its PhD business saw a 6% revenue drop to £11.7m.
It said contingency plans were enacted in early March to deal with the COVID-19 pandemic, including significant cost reductions, together with an equity raise in April. Changing consumer behaviour has accelerated its shift to online channels, which has resulted in an improvement in margins.
Its own e-Commerce platform delivered revenues of £6m across all markets, 27% ahead of 2019. Amazon was 22% ahead, with revenues of £4.1m. Online accounted for 42% of total business at the end of the first half, up from 32% in 2019.
Its USA business has been streamlined during the period and has continued to grow strongly while sharply reducing cash consumption. Export retail delivered growth in a challenging environment, and the first signs of increased activity in UK retail channels are now apparent.
USA delivered revenue of £1.5m, 30% ahead of last year, while export retail delivered revenue of £5.8m, 2% up in challenging conditions.
UK Retail has seen the hardest downturn from the COVID-19 lockdown and £7.7m revenue is 31% below last year.
Supply chain synergies in operations and purchasing, together with margin improvement from E-Commerce resulted in gross margin of 47.7% which is 290bps ahead of last year.
While the outlook remains uncertain, and the board believes it is too early to reinstate financial guidance, the strategic drivers of the business remain strong. The group said it expects to "return the business to its proven growth trajectory as and when the pandemic abates".
The Company will announce its interim results for the six months to 30 June 2020 on Wednesday 16 September 2020.
On the markets this morning, the FTSE 100 has eased back another 0.2% to 6,142.9pts.
Risers include Marks & Spencer, up 3.5% to 98.3p, C&C Group, up 3.3% to 236.5p, Science in Sport, up 2.5% to 32.3p and WH Smith, up 1.7% to 1,034p.
Fallers include British American Tobacco, down 2.5% to 2,971.5, Compass Group, down 1.7% to 1,106p and McBride, down 1.1% to 61.1p.
Yesterday in the City
The FTSE 100 closed down 0.56% at 6,156pts yesterday despite the further financial stimulus announced by the Chancellor yesterday.
Fallers included Tate & Lyle, down 4.4% to 635.4p, Glanbia, down 4.3% to €10.04, Pets at Home, down 4.2% to 229p and Science in Sport, down 3.1% to 31.5p.
Despite the increased government support to the pub and restaurant sector, drinks groups AG Barr and FeverTree fell by 3% to 452.5p and 2.7% to 2,250p respectively, while food to go specialist SSP Group fell back 2.7% to 241.8p.
The day's risers included McColl's, up 3.1% to 40.2p, Associated British Foods, up 2.3% to 1,996.5p, Paypoint, up 1.7% to 610p, Coca-Cola HBC, up 1.7% to 2,039p and Reckitt Benckiser, up 1.2% to 7,526p.