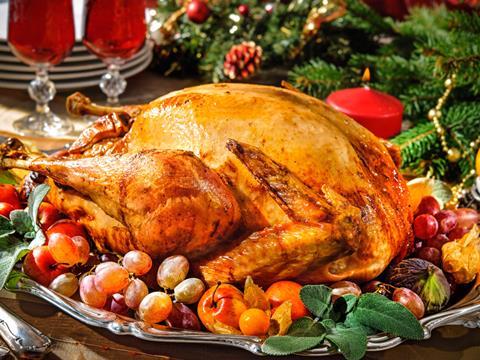 Top story
The cost of Christmas fare fell in 2018 after a currency-fuelled spike in supermarket inflation sent food prices soaring back in 2017.
Supermarket shelf prices fell 0.4% in December, according to The Grocer Price Index, collated by Edge by Ascential from almost 64,000 SKUs across the big four. This move back into annual price deflation represents a marked turnaround from 2017, when festive prices were up 2.4% after the weak pound drove supermarket inflation to a peak of 2.7% that November.
During the 2018 festive period, meat, fish and poultry saw deflation of 2.2% across the big four, having been up 3.9% in the same period in 2017.
Fruit & veg was down 0.2% year on year compared with inflation of 1.5% the previous year, while biscuits, confectionery and snacks and alcoholic drinks were both up just 0.1%, having risen 3.8% and 1.5% in December 2017.
Prices in eight of the GPI's 14 categories fell, including a 1.6% drop for health and beauty goods and a 1.4% drop in deli.
Asda was the biggest price-cutter for the second consecutive month, with prices down 1.1% year-on-year, while price cuts at potential merger partner Sainsbury's (SBRY) were only fractionally lower, also rounded to 1.1%.
Tesco's (TSCO) price increase year-on-year was essentially zero having been at 3.7% over Christmas last year.
Morrisons (MRW) once more showed the highest price inflation at 1.3%, marking its third month in the row of having the highest level of inflation.
Read the full story later this morning at thegrocer.co.uk/finance.
Morning update
The BRC Nielsen Shop Price Index also released this morning found a deceleration in food inflation, though wider shop price inflation accelerated in December to 0.3% from 0.1% in November.
This is now the fourth month of inflation in five years and the highest inflation rate since April 2013.
Non-food deflation decelerated in December to 0.4% from 0.8% in November, which is the lowest rate of deflation since March 2013.
Food inflation decelerated to 1.5% in December from 1.6% in November with fresh food inflation slowing to 0.9% in December, down from 1.2% in November.
The report said the easing of fresh food inflation is "likely to be the first indication of the downward pressures for the category from lower international food prices".
It noted global food prices have started declining (except for Cereals) in May 2018. "As it takes about 7 to 10 months for those changes to filter through into final consumer prices, we expect food price increases to subside, notwithstanding political turmoil in the UK," the report stated.
BRC chief exec Helen Dickinson commented: "December's Shop Price figures only serve to underline how tough conditions are in the retail industry. Despite non-food goods being cheaper on average than last year, early indications suggest that retailers faced a challenging environment throughout the festive season.
"Shoppers may have become accustomed to great value, but Brexit uncertainty means that a continuation of the low prices is by no means guaranteed. Without a trade deal with the EU, the cost of importing many of the goods we buy day to day will go up significantly and retailers simply do not have the room in their margins to protect consumers from those costs. Unless Parliament comes together behind a deal that ensures frictionless, tariff-free trade we could see prices paid by UK households rise substantially."
Mike Watkins, Nielsen's head of retailer and business Insight, added: "With an uncertain economic outlook, retailers had to work hard to encourage customers to keep shopping, and in the run up to Christmas price discounting was deeper and began earlier across both food and non food channels.
"There was also unprecedented levels of vouchering in December across many Supermarkets to encourage shoppers to spend, and this competitive retail environment kept increases in shop prices low. Retailers know that customers are worried about their personal finances, so they will continue to do all they can to limit price rises over the next few months despite the external pressures."
Elsewhere, under pressure McColl's has announced the appointment of a new chief financial officer.
Robbie Bell will join from his current position as CEO of Welcome Break, following its takeover by Applegreen, and will take up his appointment on 17 January 2019.
He was appointed CFO of the service station group in 2017 before taking on the role of CEO in early 2018. Prior to that, and since 2009, he had been the CFO of Screwfix Direct and was the UK finance director of Travelodge as well as serving in a number of senior finance positions at Tesco.
McColl's' departing CFO Simon Fuller will leave the company on 22 February 2019 following a handover period.
McColl's CEO Jonathan Miller said: "I am delighted to welcome someone of Robbie's calibre and expertise to the Board. With such a wealth of senior experience in retail and finance, he will add significant strength to the team. I am confident Robbie will make a valuable contribution as we deliver our strategy to enhance our neighbourhood convenience offer."
Bell said: "I am excited to be joining a growing sector with so many opportunities. McColl's is well placed to benefit from that growth and I'm looking forward to working with Jonathan and the management team to drive future value."
On the markets this morning, the FTSE 100 has opened up 0.6% to 6,730.1pts.
Early risers include FeverTree (FEVR), up 2.8% to 2,298p, Ocado (OCDO), up 2.4% to 810.2p and Greene King (GNK), up 2.2% to 547.8p.
Fallers so far include McColl's (MCLS), down 2.9% to 54.4p, Devro (DVO), down 1.8% to 161.8p and Sainsbury's (SBRY), down 1.1% to 260.1p.
Yesterday in the City
The FTSE 100 slipped back a further 0.6% to 6,692.7pts yesterday, but there was better news for beleaguered retail stocks.
The Christmas trading update of retail stalwart Next (NXT) was not as negative as the market had feared, though it did include a modest cut to profit expectations.
As such Next's shares were up 4.1% to 4,350p and there were similar strong risers fellow clothing retailers at Debenhams (9.5%), ASOS (5.7%), Superdry (4.9%) and Dunelm Group (4.3%).
Also on the up were Primark owner Associated British Foods (ABF), rising 1.5% to 2102p and Marks & Spencer (MKS), up 1.3% to 251.2p.
But the standout performer in the grocery sector was Tesco (TSCO), which jumped 4.1% to 199.4p on the more positive sentiment about Christmas retail performance. Morrisons (MRW) rose 2.2% to 216.6p, while Sainsbury's (SBRY) was up a more modest 0.6% to 263p.
Other strong risers included Total Produce (TOT), up 8.8% to 136p, Hotel Chocolat (HOTC), up 6.1% to 280p, Devro (DVO), up 4% to 164.8p, Premier Foods (PFD), up 3.7% to 34.7p and McColl's, up 3.7% to 56p.
The day's fallers included Just Eat (JE), down 2.9% to 570.6p, DS Smith (SMDS), down 2.6% to 292.9p, Ocado (OCDO), down 2.4% to 791p and SSP Group (SSPG), down 2% to 643.5p.