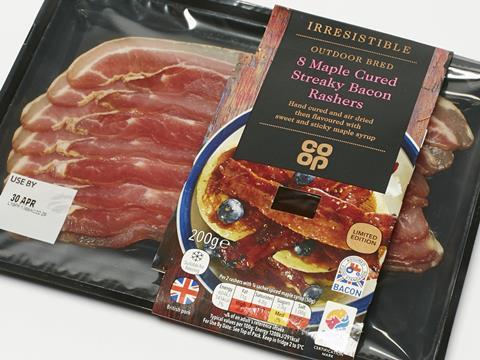 Top story
Co-op Group like-for-like food sales increased 3.5% in the first half as the retailer relaunched its Irresistible own lable range, made a commitment to sell only British meat and boosted its Fairtrade pledge.
It was the 14th consecutive quarter of like-for-like growth at the retailer, with core convenience like-for-like sales up by 4.5%.
Revenues in the first half of 2017 fell 1.2% to £3.48bn as a result of the disposal of 298 stores to McColl's, but were 0.7% higher year on year excluding the sale.
Operating profits jumped 22% to £77m, with underlying operating profits up 3% to £65m in the period, excluding property and business disposals and increases in investment property values.
Co-op opened 34 food shops in the first half and are on track to hit its target of 100 new stores by the end of 2017.
The relaunch of the Irresistible range saw a 22% rise in like-for-like sales in the period as the retailer invested in new products.
In May, The Co-op committed to use British meat in all its sandwiches and pork pies, driving a 6% increase in like-for-like sales of British meat in the first half. This was followed by a further pledge to source only 100% British bacon and lamb – the national retailer to do so, it claimed.
Co-op also moved to a position of sourcing only Fairtrade cocoa across the entire own brand range. Across the estate, Fairtrade sales rose 5% in the first half.
Group revenues, which includes the funeralcare, insurance and legal businesses, slipped slightly to £4.6bn. Pre-tax profits increased 47% to £25m thanks to one-off items, but underlying profits fell 48% to £14m as insurance profits fell and the group paid out £35m in members benefits.
CEO Steve Murrells said: "Championing a better way of doing business for our members and their communities is what the Co-op is all about and I'm delighted that we are really starting to deliver on that purpose.
"Since we launched our member reward scheme in September 2016 more than 1.1 million people have signed up to join the Co-op. As a result we've been able to give £35m back to our members and their communities over the first half of this year, a conscious decision to share our success with our members and the 4,000 good causes which mean so much to them.
"We can do all this because our businesses have continued to perform in the face of challenging markets. Food has posted a 14th consecutive quarter of like-for-like sales growth, funeralcare continues to lead the market on the back of the launch of our Simple Funeral offer and our insurance business continues to lead on making driving safer for the young. Across our business we are also maintaining our commitment of re-investing for the future success of our Co-op."
More than half a million new members were recruited in first half of year, taking active membership to 4.5 million people across the UK, with the vast majority of those who joined this year doing so through the food stores.
Members accounted for 33.4% of food sales at the half year, up from 20.6% in June 2016.
Chairman Allan Leighton added: "It's been an important six months for The Co-op Group, in which we have been able to give back to our members and their communities far more than we have for many years. We have also continued to lead the way in ethical commerce and campaigning on the issues that matter to our members, from championing Fairtrade to tackling loneliness and modern-day slavery.
"We can be proud of what's been achieved, but we want to remain ambitious. The goal now is to spread the word further, while also deepening the relationship with our members and their communities."
Morning update
Compass Group (CPG) has appointed a new CEO as Richard Cousins steps down from the role after a decade in charge at the catering giant. He will be succeeded by Dominic Blakemore, currently chief operating officer for Europe. Blakemore will become deputy chief executive Officer on 1 October and work closely with Cousins during a six-month handover period before taking the reins on 1 April 2018.
"It has been a privilege to work with the many talented people that make up the Compass team," Cousins said.
"I am grateful to have enjoyed their support in building a world class business that has enormous potential to prosper further. I look forward to working closely with Dominic in the next six months to ensure a smooth handover and I am confident that he will lead the group to even greater success in the future."
Blakemore joined Compass in 2012 as CFO before moving to COO for Europe for the past two years.
"I am honoured and delighted to be appointed as Compass' next CEO," he said. "I am fortunate to be supported by a very strong senior management team and together we will continue to build on the success achieved under Richard's leadership."
Chairman Paul Walsh said: "It has been a pleasure to work with Richard and on behalf of the board I want to thank him for his extraordinary contribution to the group. In the past 11 years Richard has transformed Compass into an industry leading organisation that delivers excellent food services to our clients, attracts and develops great people and generates significant returns for our shareholders.
"Dominic's appointment is the result of a rigorous succession process. Dominic has the leadership skills combined with the industry and operational experience to build on the group's strong track record, and as CEO to lead Compass to continued future success."
Potato supplier Produce Investments (PIL) is searching for a new chairman after Neil Davidson announced he would retire at the AGM at the end of November. Non-executive director Barrie Clapham has agreed to take over as interim chairman while a formal process commences to identify a permanent replacement.
Non-executive director Sean Christie will also leave the business after the meeting and Sir David Naish will retire as senior independent non-executive director.
"The board would like to thank Neil, Sean and Sir David for their contributions to the company," a short statement said.
"Trading remains in line with board expectations and the company will report its full year results for the year ending 1 July 2017 on Thursday 28 September 2017."
Yesterday in the City
Diageo (DGE) was the biggest faller on the FTSE 100 as a warning by CEO Ivan Menezes ahead of the AGM that a ban on the sale of alcohol near highways in India is likely to hit sales at the spirits giant. Its share price sank 2.8% to 2,426p as a result.
Science in Sport (SIS) lost investor confidence yesterday as its first-half losses widened as it invested in ecommerce and export growth. The shares finished 2% down at 78p
Ocado (OCDO) continued to see investor desert the stock this week after disappointment that despite strong trading figures on Tuesday the online grocer is having to plough millions of pounds more into its Andover facility. Shares fell another 2.1% yesterday to 290p.
A little of the shine came of Dairy Crest (DCG) – falling 1.6% to 615.5p – after rises earlier in the week on news that its cheese and spreads brands would see volume gain this year.
Mark & Spencer (MKS) continue to make strong gains as the latest Kantar data on Tuesday showed resurgent food sales in the past 12 weeks. Shares are up another 2.4% to 348.3p, on top of a 3.6% rise the day before.
PureCircle (PURE) bounced back after heavy falls on Tuesday when it revealed the extent of the annual losses caused by the seizure of stevia shipments by US Customs in 2016. It rose 3.7% to 466.8p.
Other risers included WH Smith (SMWH), up 0.9% to 1,950p, Associated British Foods (ABF), up 0.5% to 3,214p, and Sainsbury's (SBRY), up 0.3% to 243.9p.
The FTSE 100 went backwards by 0.1% to 7,271.95 points as a much better than expected rise in retail sales in August boosted the pound.