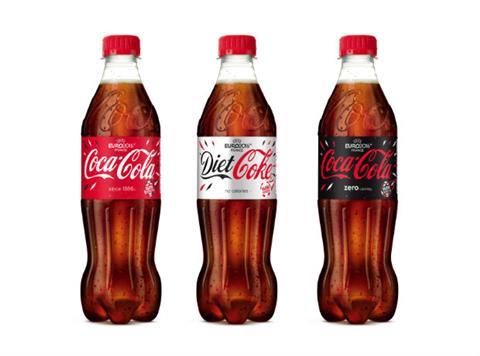 Top story
Volumes were stable at European Coke bottle Coca-Cola HBC (CCH) in the first quarter but "considerable pressure" from exchange rate headwinds harmed sales.
Net revenues fell 2.7% in the first three months of the year hit by weak emerging market currencies and the strong Euro, with volumes edging up 0.1%.
The business said there was an improving underlying trend in established and emerging market segments, with good growth in Nigeria, Romania and Poland offsetting a weak performance in Russia and premium sparkling brands, water and energy drinks performing well.
CEO Dimitris Lois added: "We had a good start to the year with Q1 trading in line with our plans. Our commercial initiatives delivered beneficial results, improving currency-neutral revenue per case by 2%.
"We are encouraged by the ongoing volume growth in emerging and developing markets and the improving underlying trend in established markets. While soft in the quarter, pricing trends in developing markets are improving. We are confident we have the right initiatives in place to continue our progress in the remainder of the year."
Established markets volumes declined by 2.7% while Italy maintained positive momentum. On a FX-neutral basis, pricing was up marginally in the segment compared to the prior-year quarter despite the continuing deflationary environment in certain countries.
Developing markets volumes grew in almost all categories and countries resulting in overall volume growth of 1.9% despite tough comparatives. Pricing remained weak, particularly in the Czech Republic and Poland, the group said.
Emerging markets volumes were robust; Nigeria was the key driver with low-teens percentage volume growth in a seasonally important quarter. In Russia, we outperformed in a declining market with our volumes continuing to decline across the categories with the exception of Coke Zero and energy drinks.
Shares in the bottle have slumped 3.1% so far this morning on the back of the trading update to 1,354p.
Morning update
Tesco boss Dave Lewis has bagged a £3m bonus for last year as he continued his attempts to turnaround the troubled supermarket giant. His total pay packet rose from £4.1m in 2014/15, after he took over from Philip Clarke, to £4.6m. Lewis took home a salary of £1.3m, a short-term annual bonus of £3m, benefits worth £80,000 and a £313,000 contribution to his pension, according to the Tesco annual report.
Moy Park's first quarter revenues fell 1.6% due to falling poultry prices and its exit from the UK corned beef business. The Northern Irish poultry producer's net revenues were down 1.6% to £347.5m in the first three months of 2015. However, underlying revenues were up 1.6% and adjusted EBITDA rose 13.5% to £30.6m.
CEO Janet McCollum said: "We are pleased to announce a solid start to the year in the face of a challenging global market. The company has delivered a 32% increase in underlying profit before tax and continues to achieve volume growth. Underpinning this progress is a continued focus on efficiency and cost control, and we are beginning to see the benefits from being part of JBS. This robust performance was delivered against market headwinds including commodity price deflation and a challenging export market."
AB InBev (ABI) has agreed to transfer SABMiller's (SAB) Panamanian business to Ambev in exchange for the Latin American brewer's operations in Colombia, Peru and Ecuador. "This will allow AB InBev to focus on countries where the SABMiller businesses it acquires are well established, and allow Ambev to initiate operations in Panama through the established SABMiller business and further expand its businesses in Central America," the Budweiser owner said. The transaction is conditional on the successful closing of the proposed business combination between AB InBev and SABMiller.
Yesterday in the City
Sainsbury's (SBRY) was one of the FTSE 100's biggest fallers yesterday as a result of trading without the attraction of its latest dividend pay-out. The supermarket fell 4.2% to 252p.
Morrisons (MRW) was another stock by trading ex-dividend, falling 1.3% to 187p. Outside of retail Centrica and GlaxoSmithline were also affected.
Refresco Gerber (RFRG) slumped 6% to €15.32 after it said organic growth in 2016 was expected to come in at the low end of forecasts. Volumes at the soft drinks bottler fell in the first quarter, pushing down sales 2.3% to €447.9m.
Other fallers included Associated British Foods (ABF), down 2.7% to 3,020p and Tesco (TSCO), down 2.1% to 156.1p.
At the opposite end, Ocado (OCDO) shares jumped more than 3% to 297.2p, along with Greencore, up 1.7% to 383.5p and Greggs (GRG), up 1% to 1,104p.
Compass Group (CPG) more than made back yesterday's losses, rising 1.6% to 1,271p. The catering firm reported a 6.4% rise in operating profit before restructuring on revenues up 5.8% in its first half on Wednesday.