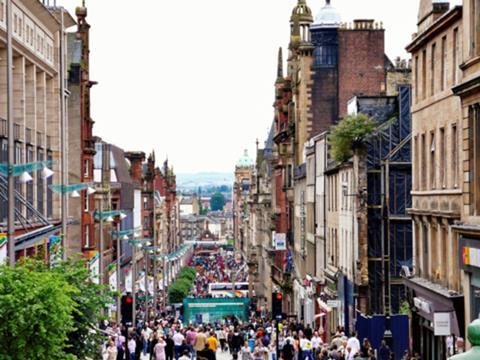 Top story
GfK's UK Consumer Confidence Index has increased three points to 7 in August, thanks to improved employment prospects and the benign inflationary environment.
Four of the measures used to calculate the index saw increases for August.
The measure for the general economic situation of the country during the last 12 months has increased four points this month to +3, now four points higher than August 2014. Expectations for the general economic situation over the next 12 months also increased four points to +3; eight points lower than this time last year.
Joe Staton, Head of Market Dynamics at GfK, commented: "Consumers continue to report higher levels of confidence this month maintaining the positive growth curve we've seen since the start of 2015. Rising house price inflation and improving employment growth prospects, combined with falling petrol prices and day-to-day living costs, as well as low interest rates, are translating into high levels of confidence across all major measures.
"Confidence in the future for both our personal financial and general economic situation for the next 12 months remains strong – consumers now believe that UK economic recovery is robust, we're in the black and that prospects for growth are fact and not fiction."
The index measuring changes in personal finances during the last 12 months has decreased by one point this month to +3, though this is ten points higher than August 2014.
Morning update
It's a quiet morning on the markets as we head into the bank holiday weekend after a week of share price turmoil.
A more sedate start to today's trading has seen the FTSE edge up 0.3% to 6,211.4pts after a week of peaks and troughs. Diageo (DGE) is the biggest early moving, up 1.3% to 1,717.5p.
Sales at Waitrose increased by 1.6% excluding petrol in the week to 22 August, which it said was "slightly distorted by the equivalent week last year including the build-up to bank holiday".
Sales for the 3 weeks so far in its second half of the year, excluding petrol, are up 2.3%. Including petrol, sales are up 2.1% in the three-week period, compared to 8.4% growth in the same period last year.
Yesterday in the City
The latest instalment of the stock market rollercoaster yesterday saw the FTSE bounce back with its biggest single-day rise in four years as shares also rebounded in the US and China.
The FTSE 100 was up 3.5% to 6,192pts – now only 14 points lower than it started the week before Monday's China-driven market chaos.
Chief beneficiaries included Marks & Spencer (MKS), up 4.6% to 523.5p, Reckitt Benckiser (RB), up 3.7% to 5,733p and Coca-Cola HBC (CCH), up 2.9% to 1,329p.
There was also a 7.2% jump in Tate & Lyle shares to 538p, which has suffered from growing competition from Chinese sweetener producers.
Pernod Ricard shares were down 1.7% to €92.20 after taking a €404m write-down on its Absolut vodka brand yesterday. Worldwide net sales in the 12 months to June were up 8% to €8.56bn, while profit from recurring operations grew 9% to €2.24bn.