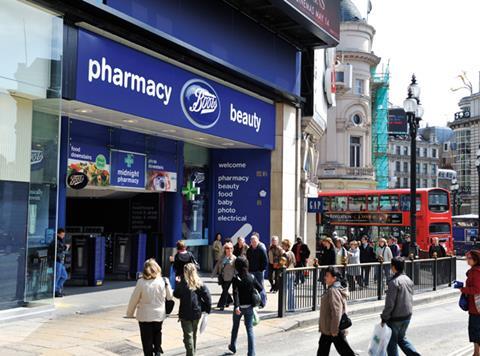 Top story
The coronavirus outbreak has continued to hit sales at high street pharmacy retailers Boots as growing online and pharmacy sales have failed to mitigate a dramatic drop in footfall.
Boots sales were down 17.8% in the three months to 28 February, which Walgreens Boots Alliance attributed to COVID-19 related impacts.
Boots UK comparable pharmacy sales increased 3.2% compared to the year-ago quarter, reflecting favourable timing of National Health Service reimbursement, and stronger pharmacy services, which mitigated the impact of lower prescription volume.
However, COVID-19 continued to impact footfall, particularly in major high streets, and in train stations and airports as the recovery in footfall trends seen in early autumn was set back by the re-introduction of stricter restrictions beginning in November.
Boots.com continued to perform "very strongly" with sales up 105% compared with the year-ago quarter, to partially mitigate the reduced footfall.
Walgreens said that Boots continued to gain market share in the beauty category, but restrictions due to the pandemic impacted all other categories, reflecting the shift in buying habits to one-stop grocery shopping.
Therefore, Walgreen's international segment's gross profit decreased 9.2% compared with the same quarter a year ago, including a favourable currency impact of 4.2%. Adjusted gross profit decreased 13.4% on a constant currency basis reflecting lower UK retail sales and pharmacy volumes, partly offset by the favourable timing of NHS reimbursement and by incremental gross profit associated with the Germany joint venture.
Overall international sales in the second quarter were up 32.6% to $5.4bn due to the company's new joint venture in Germany, which was consolidated as of November 2020.
Group-wide sales increased 4.6% to $32.8b, up 3.5% on a constant currency basis.
New CEO Rosalind Brewer commented: ""Overall, we have achieved a good financial quarter with results well ahead of expectations, despite significant impacts from COVID-19, and we have raised our full-year EPS guidance. I am optimistic about our ability to drive sustainable, long-term value for our shareholders, while acknowledging that there is still work to be done to stabilize the base business."
"I will continue to review closely all our initiatives, strategies and opportunities to capitalize fully on the incredible potential in front of us. Our team will move swiftly and decisively to best serve the needs of our patients, customers and communities around the world, at this critical time and beyond."
Walgreens Boots shares were up 3.6% to $54.90 yesterday following the trading update.
Morning update
British American Tobacco has announced that non exec director Jerry Fowden has stepped down from the board with immediate effect.
It said that, in view of BAT Group activities to expand its portfolio beyond nicotine, Fowdwn has decided to step down from the board to ensure there would be no potential for a conflict of interest to arise in view of his other external commitments, which he has decided to focus on.
Fowden is currently chairman of Primo Water Corporation, formerly known as Cott Corporation.
Chairman Richard Burrows said: "On behalf of the Board, I would like to thank Jerry for his valuable contribution to the company since his appointment as a Non-Executive Director in September 2019."
Following receipt of notice of Jerry Fowden's resignation, a review of the memberships of the company's board committees has been undertaken.
Karen Guerra, a non-executive director, will join the audit committee and step down from the remuneration committee with effect from 1 April 2021.
Elsewhere, Finnish food group Raisio has announced it will acquire Verso Food Oy, known for its Beanit and Härkis fava bean products.
The debt-free purchase price is €7m in cash and 1 million shares of Raisio's V-shares, currently owned by Raisio.
Verso Food was founded in 2010 and is known for its fava bean products. Its sales have grown strongly in recent years, increasing its net sales by almost 20% to approximately €8m in 2020.
Due to large investments and strong sales efforts, Verso Food's business is still unprofitable. Verso Food ended the year 2019 with a loss of €3.6m and the year 2020 with a loss of €4.5m.
Raisio has been preparing a comprehensive value creation and integration plan, to ensure both the continuation of rapid growth and also the improvement in profitability.
President and CEO of Raisio, Pekka Kuusniemi commented: "The acquisition we are announcing is an excellent fit for Raisio's strategy. One of our key strategic targets is growth built on plant-based value-added products. With Verso Food, we will achieve leadership in the rapidly growing plant-based protein market in Finland"
"Through the acquisition, we will also gain production technology that complements our strategic capabilities as well as product development and marketing expertise. I would like to warmly welcome our new colleagues to the Raisio family."
On the markets this morning, the FTSE 100 has opened up 0.7% to 6,760pts.
Early risers include SSP Group, up another 3.5% to 385.4p, Marston's, up 2.2% to 100.5p and Compass Group, up 2.1% to 1,491.5p.
Fallers so far include McColl's, down 2.2% to 30.8p and Finsbury Food Group, down 1.4% to 77.4p.
After its tough first day of trading Deliveroo has started Thursday down 1.7% to 282.6p.
Yesterday in the City
The FTSE 100 ended the day up 0.3% to 6,735.4pts yesterday.
However, it proved to be a sobering day for Deliveroo, which made its stock market debut at 390p – at the bottom end of price guidance – and closed at 287p, a fall of 26% and wiping £2bn from its market cap in a day.
Elsewhere, Nichols was down 5.5% to 1,300p, McColl's Retail Group fell 3.1% to 31.5p, Marks & Spencer was down 2.4% to 150.9p, WH Smith fell 2.3% to 1,797p, FeverTree fell 2.3% to 2,140p and Hotel Chocolat was down 2.2% to 400p.
The day's risers included SSP Group, up 3.9% to 372.4p, Coca-Cola European Partners, up 2% to €44.65, Greencore, up 1.6% to 157.2p, Pets at Home, up 1.3% to 413p and AG Barr, up 1% to 491p.