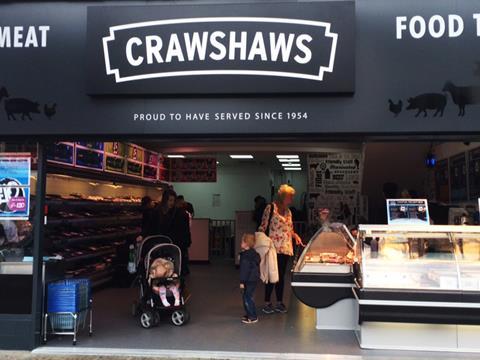 Top story
Butchery chain Crawshaw Group has reported a 42% first half revenue jump driven by new store openings and investment in the business.
Group turnover rose to £16.7m in the six months to 31 July 2015 from £11.8m last year as the group gears up its "significant expansion plans", including the first half acquisition of 11 Gabbotts Farm butchery shops.
Adjusted EBITDA rose 41% to £0.9m, while gross profit was up 44% to £7.5m. Due to the investment in the business, it reported a statutory loss of £0.1m down from a profit of £0.7m in the corresponding period last year.
Like-for-like sales leapt from -2.2% in the first quarter to +3.5% in the second quarter – the company said this sales momomentum had continue into the second half, with like-for-like sales growth in the seven weeks since 31 July at 6.7%.
Chairman Richard Rose said: "Since my last statement at the end of June we have seen a significant improvement in sales momentum as a result of a number of initiatives launched by new management. This improvement is being seen across the whole Crawshaw and Gabbotts store portfolio and so is particularly encouraging."
Morning update
It's a busy morning for the wider retail sector, with largely encouraging updates from Next (NXT), Boohoo, Moss Bros, and furniture retailer ScS. However it's another quiet morning on the grocery front before Sainsbury's (SBRY) Q2 update tomorrow.
After the market closed last night Poundland (PLND) confirmed the completion of its £55m 99p Stores acquisition, but the shares remain close to historic lows at 278.8p since it announced a £20m share placing to part-fund the deal on Thursday last week.
Venture Life Group, the cosmetic firm targeted at the ageing population, saw first half revenues increase to £4.4m from £3.1m in the same period last year. That translated to a gross profit of £1.5m (up from £1.2m), but a loss before tax, amortisation and exceptional costs increasing to £0.4m from £0.2m.
The FTSE has had another downbeat opening following yesterday's slump as global equity markets continue to fall. The FTSE 100 is 0.7% down in early trading to 5,914.8pts - though Tesco (TSCO) and Sainsbury's are amongst the few FTSE 100 stocks to edge upwards, though both are currently under 0.5% up for the day.
Crawshaw Group has fallen back 2.4% to 70.75p despite the first half rise in sales and underlying profitability, but its shares had jumped yesterday in advance of this morning's results (see below).
Yesterday in the City
A horrible slump for mining stocks helped plunge the FTSE 100 down by 2.5% to 5,958.9pts on a grim day in the City.
Grocery stocks were amongst London's better performers – escaping the worse of the slump driven by falling commodity prices and a further slowdown in China's industrial manufacturing.
SABMiller (SAB) was one of the day's few significant risers, climbing 1.3% to 3,634.5p on weekend reports that a firm bid from AB InBev (ABI) was on its way this week.
Morrisons (MRW) was up 0.8% to 155.5p after broker Bernstein upgraded the stock with a price target of 170p. Associated British Foods also edged up 0.3% to 3,251p.
Crawshaw Group rose 5.8% yesterday to 72.5p as the City got wind of its positive first half trading momentum announced this morning.
The most notable fmcg victims of the wider slump were the tobacco firms, with Imperial Tobacco (IMT) down 2.1% to 3,440p and British American Tobacco (BAT) falling 1.7% to 3,555.5p. Marks & Spencer (MKS) was also down 1.8% to 491.9p and Compass Group #(CPG) was 1.8% down to 1,023p.