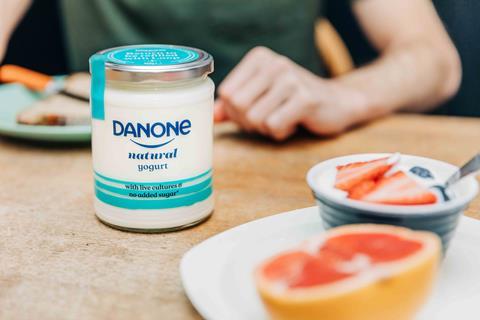 Top story
French dairy giant Danone has this morning announced its intention to conduct a full portfolio review and put assets worth €500m up for immediate sale to tailor its business for a post-coronavirus market.
Danone will conduct a full strategic review of its portfolio of brands, SKUs and assets with the aim of shaping its portfolio to hit its 3-5% growth target.
It will start with a review of assets where performance is falling short of its profitable growth targets.
This includes, as an immediate step, the potential sales of its Argentinian platform and Vega brand, representing together around €500m net sales. It said other assets will be reviewed at a later stage.
The review comes as Danone posted third quarter net sales of €5.8bn, which were down by 2.5% on a like-for-like basis and by 9.3% on a reported basis.
It said the depth of the sales drop was primarily driven by change in currencies against the euro which had an effect of -7.1% on the sales of the quarter (mostly from the US dollar, the ruble, and currencies in Latin America).
Volumes sequentially improved to a 0.4% drop in the quarter compared to a 2.6% fall in the second quarter, but remained affected by Waters performance.
Value also sequentially improved by falling 2.1% compared to 3% in the second quarter, reflecting negative country mix but stable pricing.
Its 'essential dairy & plant-based' division posted a significant acceleration in net sales growth at 3.7% in the quarter on a like-for-like basis as Actimel, Danette, and Alpro made market share gains in Europe.
However, 'specialized nutrition' sales declined 5.7% on a like-for-like basis, driven by the performance of China which posted a steep double-digit sales decline in the quarter against a high base last year.
Waters improved in the third quarter but were still heavily impacted by low mobility index due to lockdown policies as like-for-like sales declined 13.5% in the quarter.
Danone said recurring operating margin is expected to remain impacted in the second half by COVID-19-related extra-costs and negative mix, but efficiency, cost control and tight cash management actions are in place to target for it to restore guidance of 14% recurring operating margin and the delivery of €1.8bn free cash flow.
Danone chairman and CEO Emmanuel Faber commented: "Our Q3 results reflect how much the COVID-world and its cohort of sanitary measures, border closures, uncertainty in consumer sentiment and some structural changes affect our business.
"As we expect continued volatility in our other businesses in the short term, the return of EDP growth beyond 3%, both for Q3 and YTD (and stellar performance of plant-based) is a north star to our ambition to reconnect as soon as possible with our 3-5% mid term profitable growth agenda. Our discipline on portfolio focus and capital allocation will be an additional enabler."
Meanwhile, Danone announced after that CFO Cécile Cabanis will leave the company after 16 years. She will leave in February 2021, after the launch of Danone's COVID adaptation plan, and after a transition with Juergen Esser, currently CFO of Waters and Africa divisions, newly appointed as Danone's CFO.
Danone has also appointed two new regional CEOs to take charge of Danone International and Danone North America, with Véronique Penchienati-Bosetta and Shane Grant taking charge of the regions' P&L respectively.
Danone said they will be in charge of maximizing the focus on delivery, operational excellence and local execution with cross-category synergies.
Danone shares are up 1.5% to €54.12 on this morning's news.
Morning update
On the markets this morning, the FTSE 100 has opened up 0.4% to 5,940.1pts.
Early risers include Devro, up 5.3% to 168.1p, Nichols, up 4.3% to 1,155p and Bakkavor, up 2.9% to 64.8p.
Fallers include C&C Group, down 2.8% to 172.4p, Finsbury Food Group, down 1.5% to 52.2p and Just Eat Takeaway.com, down 1.5% to 9,832p.
This week in the City
International earnings season kicks off this week with a number of global fmcg giants posting quarterly sales updates through the week.
Tomorrow brings a third quarter trading update from Reckitt Benckiser in the UK, while in the US P&G will post its first quarter results and Philip Morris will release its third quarter numbers. French spirits group Remy Cointreau will post its interim sales figures tomorrow too, while in the UK McBride will host its AGM.
Wednesday brings interim earnings from C&C Group in the UK, while global food giant Nestlé will post its third quarter sales figures.
A busy Thursday sees Unilever release its third quarter results along with French spirits group Pernod Ricard's first quarter sales. In the US Kimberly-Clark and Coca-Cola will both post third quarter earnings.
Friday sees the released of the monthly GFK Consumer Confidence index for October and the ONS retail sales figures for September.