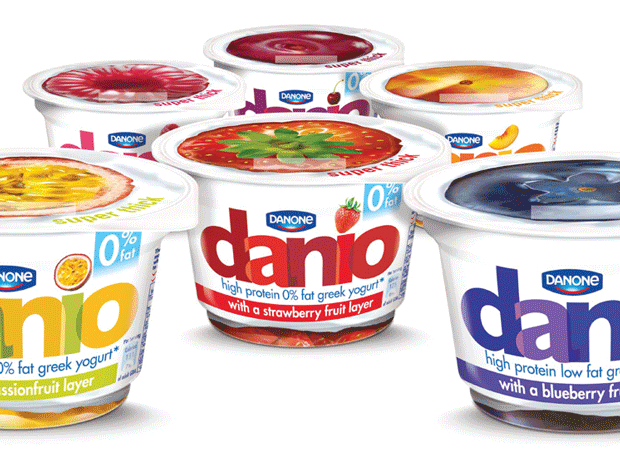 Top story
Danone has this morning posted full year sales growth of 4.4%, which it described as "solid" and "in line with objectives".
Like for like sales were up 4.4% and total sales up 6% to €22.4bn. Trading operating income rose 5.7% like for like and 8.7% on a reported basis to €2,9bn, with operating margin increasing from 12.6% to 12.9%.
In the fourth quarter of 2015, consolidated sales were €5.4bn, up 3.6% like-for-like, reflecting a 1.3% rise in volume and a 2.3% rise in value.
CEO Emmanuel Faber commented: "Over the past 18 months, we have been making the changes necessary to take up the challenges of a new and ever changing world, as we pursue our purpose to provide pleasurable, healthier, sustainable hydration and eating options to our consumers each and every day.
"With organic growth of +4.4% and trading operating margin up +17 basis points like-for-like, our results are very solid and perfectly aligned with our objectives. They confirm that we have taken this mission to a new level, paving the way for strong, profitable and sustainable growth by 2020."
Its fresh and dairy division saw a 0.6% full year sales rise despite a 3% volume decline, while water was 7.1% up, early life nutrition up 9.8% and medical nutrition up 7.5%.
Sales in Europe rose 3% during the year, with CIS and North America up 2.6% (with a 3.8% volume decline) and its ALMA region (Asia-Pacific, Latin America, Middle East, Africa) up 6.7%.
Danone shares were up 2.4% this morning in Paris to €62.35.
Morning update
Kerry Group (KYGA) issued its preliminary annual results for 2015 this morning, detailing a revenue rise of 6.1% to €6.1bn and a rise in volumes of 3.8% year-on-year. Kerry said this performance reflected "continued strong market development" in American markets, an improved performance in the EMEA region and "good growth" in Asia despite lower economic growth in some developing markets. Pricing declined by 2.2% against a background of approximately 4.5% lower raw material costs, but currency movements contributed a positive 6.9% translation impact to revenue.
Efficiency programmes helped increase Kerry's trading profit by 10% to €700m and group trading profit margin increased by 40 basis points to 11.5%.
Kerry Group chief executive Stan McCarthy commented: "In a record year of business development in 2015, the Group achieved a strong financial performance, delivering continued business margin expansion and 8.2% growth in adjusted earnings per share. Our industry-leading technologies are well positioned to meet today's consumer and customer requirements." He said the group expects to achieve 6% to 10% growth in adjusted earnings per share in 2016 taking into account a 3% currency headwind at today's exchange rates.
Kerry Group shares up up 3.2% to €73.10 on this morning's strong growth.
However, the FTSE 100 is down 0.4% to 6,012.4pts this morning after a number of FTSE bosses - though notably not the UK grocers - warned Brexit could hit jobs.
Despite not signing the letter, the food retailers have suffered this morning. Tesco (TSCO) is down 1.3% to 182.2p, Sainsbury's (SBRY) is down 1.1% to 252.5p and Morrisons (MRW) has eased back 0.8% to 183.4p.
Coca-Cola HBC continues to gain after Friday's surprisingly positive results, countering the general market falls to go up 0.7%to 1,479p.
Also on the up are Hilton Food Group (HFG), up 2.8% to 529.5p, Conviviality (CVR), up 2.6% to 215p and Poundland (PLND), up 1.8% to 175.8p.
Yesterday in the City
The pound was battered yesterday by increased Brexit fears after Boris Johnson came out for the "out" campaign, but UK share prices held up well despite the City's EU nerves.
The pound hit its lowest level against dollar since 2009 yesterday, at one point falling 2.4% to almost $1.4 per pound. However, the FTSE 100 increased 1.5% to 6,037.7p as worries about Brexit's impact on UK stocks was largely contained to the housebuilders.
Sainsbury's (SBRY) did have a tough day after news emerged of a rival and higher bid for Argos/Home Retail from South African retail group Steinhoff. Sainsbury's fell 2.3% to 255.2p on the news, while Home Retail surged by 13% to 173.5 – just below Steinhoff's 175p per share offer level. Sainsbury's has been granted an extension until 18 March to make an official bid.
Elsewhere, the other big M&A news was US group Sysco's $3.1bn acquisition of UK wholesaler Brakes. US investors seemed less than convinced by the deal's rationale, sending Sysco down 4.9% to US$42.77 on the news.
However, generally it was a decent day for the sector. Coca-Cola HBC was up almost 4% to 1,469p after issuing its annual results on Friday, while Diageo (DGE) was up 1.7% to 1,859p and Unilever (ULVR) was up 1.6% to 3,082p.
Associated British Foods (ABF) rose 1.2% to 3,295p after it increased full year earnings guidance largely thanks to the more benign currency environment for the pound.
One of the day's other notable fallers was Marks & Spencer (MKS), which dropped 1.3% to 426.8p despite the day's positive general share price movements.