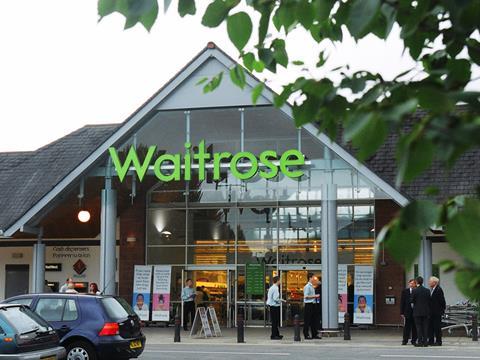 Top story
Sales at Waitrose were up 1.9% in the week to 21 March as the supermarket settles into a period of modestly rising sales but declining like-for-likes.
The 1.9% ex fuel weekly sales rise brings Waitrose's sales over the first seven weeks of its financial year 1.6% higher. Factoring out the contribution of news stores, the figures represent around a 2% like-for-like ex fuel weekly sales decline and just over 2% down like-for-like for the year so far.
Including petrol, sales are up 1.4% so far this financial year.
Marketing director Rupert Thomas said "preparation for Easter helped grow divisional sales" despite "the drag effect of food price deflation continuing".
He added that the cooler recent weather had helped slow-cook meat sales rise by nearly 56%. Sales of ready meals also increased by 13%, with Indian ready meals up 41% on last year.
Morning update
In the Netherlands bottling company Refresco Gerber has just announced it has priced its IPO at the mid-range of its €13-€16 price guidance at €14.50 a share. This values the firm at €1.18bn. Listing and first trading of the Shares on Euronext Amsterdam will commence today.
In the UK, it's a pretty quiet morning out there as we head into Easter.
One piece of news from the stock exchange is that the auditor under fire for its role in Tesco's profit overstatement last year has lost another big client, following on from British American Tobacco's decision to drop PriceWaterhouseCoopers earlier this month. Now packaging company Devro has appointed KPMG after not inviting its existing auditor PwC to re-tender for the role.
AIM-listed Equatorial Palm Oil, which has operations in Liberia, West Africa, released an operational update to the market today, including reassurances that "no instances of Ebola have occurred on or around our operations at Palm Bay and Butaw estates". "EPO continues to communicate with Government of Liberia and major health NGO's in relation to the health crisis, in addition to taking a proactive role in addressing the Ebola outbreak," it said.
Early stock market momentum seems more encouraging, with the majority of stocks rising after a few days of falls. Diageo is up 0.8% in early trading to 1,910p, while there are strong early gains for M&S (up 0.5%) and Reckitt Benckiser (up 0.4%).
Yesterday in the City
In the US, Kraft managed to maintain its extraordinary gains from Wednesday by rising another 1.5% to $84.39. It rose almost 40% on Wednesday after news of the Heinz merger broke.
It was a more subdued day in the UK as the overall FTSE 100 index fell for the third day in a row. After hitting 7,000 points last week, the FTSE is back down past 6,900pts at 6,895pts as investors started to become nervous about the likelihood of strong gains being maintained.
Most major grocery stocks suffered in the fallout. Associated British Foods was 1.8% down to 2,858.6p, while British American Tobacco fell 1.9% to 3,570p and Imperial Tobacco was down 1.7% to 3,103p.
SABMiller was again one of the FTSE's biggest fallers as the prospect of a 3G Capital-backed takeover declined after the Heinz/Kraft mega-merger. The brewer was 2.5% down to 3,555.5p.
The retailers also suffered, with Sainsbury's down 1.4% to 264.4p, M&S down 1.3% to 532.5p and Morrisons falling 1.3% to 201.7p.