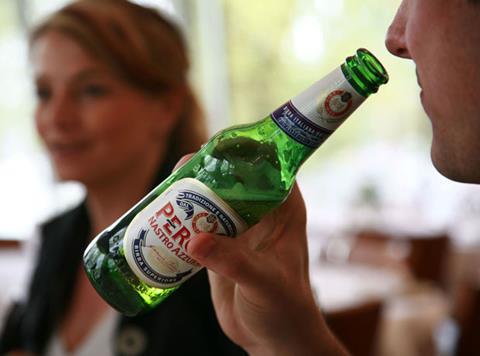 Top story
SABMiller (SAB) has suffered a 12% drop in revenues in the six months to 30 September and an 11% fal in EBITDA as currency fluctuations hit performance.
Revenue fell to US$10bn from US$11.4bn last year, while EBITDA was down to $2.9bn from £3.3bn last year.
However on an organic, constant currency basisis, revenues and EBITDA both rose by 5%.
Alan Clark, chief executive of SABMiller, said: "We had a good first half, stripping out the effects of adverse exchange rates, with strong growth in Africa and Latin America and better mix across all of our regions. Our reported results were again negatively impacted by the depreciation of major operating currencies against the US dollar"
"In our African and Latin American markets, our affordability strategies are helping us to grow beer's share of total alcohol. At the other end of the price ladder, our volume growth in premium lagers included particularly strong growth of our global premium brands."
The group said it saw good underlying performance with group net producer revenue (NPR) growth of 4%, beverage volumes up 1% and group NPR per hectolitre up 4%
Growth accelerated in the second quarter, with group NPR growth of 6% and beverage volume growth of 2%
Group lager volumes for the half were in line with the prior year with subsidiary lager volume growth of 3% (second quarter growth of 5%) offset by the performance of its associates. Premium lager brands NPR growth was 7%, while its global lager brands saw NPR rise by 14% with growth across all regions.
SABMiller and Anheuser-Busch InBev announced they had agreed terms of a recommended acquisition yesterday. The deal is expected to complete in the second half of 2016.
Morning update
Conviviality (CVR) has updated the market this morning that revenues for the for the 27 weeks to 1 November were 38% ahead of last year at £252m.
This figure includes revenues from Matthew Clark since the acquisition on 7 October 2015, but are 4.4% higher excluding the impact of the acquisition.
Conviviality Retail generated revenues of £191m in the 27 weeks to 1 November 2015 (up from £183m last year) with sales for the corresponding 26 week period up 0.4%. Like for like store revenue has improved slightly to -1.3% and Wine Rack saw like for like sales up 5.3%.
Matthew Clark generated revenues of £61m from 7 October 2015 to 1 November 2015 compared to £59m in the same period last year. Revenues in the 27 weeks to 1 November are 4% above the same period last year.
CEO Diana Hunter said: "We have had a transformational first half of the year which culminated in the successful acquisition of Matthew Clark. It is still early days in our ownership of this business however the integration is progressing well and we are pleased to have gained such a passionate and talented team. Our Franchisee and Retail business has also had a strong start to the year and we will continue to help our Franchisees grow their businesses while also working to attract new Franchisees to the Group."
Elsewhere, Morrisons (MRW) announced the appointment of Paula Vennells as a non-executive director starting on 1 January 2016. Vennells is currently Chief Executive of the Post Office, a role she has held since April 2012, having joined in 2007. Previously she was group commercial director of Whitbread having started her career with Unilever and L'Oreal. She has also held directorships in sales and marketing with a number of major retailers including Dixons Stores Group and Argos.
She replaces Johanna Waterous who has announced her intention to step down from the board at the end of the financial year, January 2016. Irwin Lee will succeed Johanna as chair of the remuneration committee.
Chairman Andrew Higginson said: "I am delighted to welcome Paula to the board. Her experience of restructuring and building a retail operation at the Post Office, her background in FMCG and her experience as a serving CEO, will all be invaluable to the board going forward."
SABMiller's shares have crept up 0.2% to 4,058.5p after the solid underlying first half performance announced this morning. Conviviality's shares have also edged up 0.1% to 200.25p after its trading update.
The big mover of the day so far is Sainsbury's (SBRY) - with the shares dropping another 3.2% to 245.4p this moring to add to yesterday's woes. The FTSE 100 is 0.1% down to 6,289.2pts so far today.
Yesterday in the City
Sainsbury's insisted it was making strategic progress in its interim results yesterday, but the market delivered a damning verdict on the supermarket's first half numbers.
Sainsbury's 17.9% slump in underlying interim pre-tax profit to £308m was ahead of expectations and the shares briefly rose in early trading, before plunging back down to end the day 7.1% down to 253.3p. Sainsbury's was easily the FTSE 100's biggest faller – more than doubling the share price drop of the next biggest faller.
There was some – albeit not catastrophic – sector fallout. Ocado (OCDO) was down 2.9% to 385.2p, Morrisons fell 1.6% to 156.9p, M&S (MKS) dropped 1.2% to 526p and Tesco (TSCO) was down 0.7% to 174p.
Conversely SABMiller (SAB) was boosted by the news it had finally reached an agreement with AB InBev over its protracted takeover. The UK-listed firm was up 1.9% to 4,050 – the shares first time over £40. AB InBev (ABI) was up 1.2% to €113.3.
The brewing megadeal gave the sector a boost – with Diageo (DGE) rising 1.5% to 1,899.5p.
The FTSE 100 shook off the Sainsbury's falls to end trading 0.4% up to 6,297.2pts.
There was some profit taking at Premier Foods (PFD) after its double-digit share price rise yesterday as it slipped back 3.6% to 40.5p.
Other food producers had a good day, including Real Good Food (RGD), up 6.7% to 56p, Carr's Group (CARR) up 6% to 168.5p and Hilton Food Group (HFG), up 4.2% to 526p.