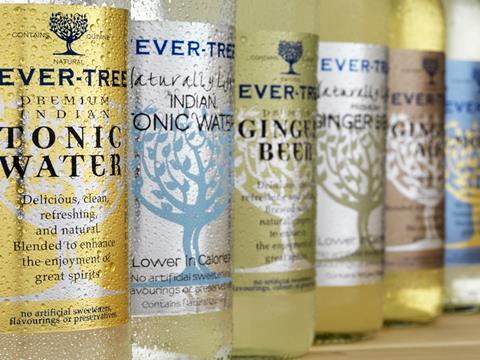 Top story
Fever-Tree (FEVR) has reported soaring sales of £24.1m - up 62% - in its first half, with adjusted EBITDA rising 68% on the same period a year ago to £7.2m.
Despite some currency headwinds, the posh mixer brand maintained gross profit margin at 50.5% in the six months to 30 June. It said in the interim results that the company began the second half of 2015 with a "strong" balance sheet and net cash of £7.9m.
Fever-Tree added it was confident it would continue to benefit from the growing trend toward greater premiumisation.
CEO Tim Warrillow said: "We are delighted to report that the group's strong performance throughout 2014 has continued into the first half of 2015.
"We achieved a 62% increase in revenue with all four of our territories continuing to perform strongly and the results were underpinned by solidly maintained margins and a strong balance sheet."
He added that the group looked to the future with "confidence" as it looked to explore new market opportunities.
In the UK – its largest market – Fever-Tree achieved sales growth of 62%, with strong performance in the on and off-trade. However, its results were boosted by some customers building inventory in June in advance of the summer season. The group also gained a listing with Morrisons in the period.
Morning update
Consumer products group Reckitt Benckiser (RB) has increased revenues in the six months to 30 June to £4.36bn, which represents like-for-like growth of 5%, led by its focus on health and hygiene.
Reported operating profits at the Durex, Vanish and Nurofen owner grew 10% on the previous year at constant currency rates to £939m. CEO Rakesh Kapoor said: "I am pleased with our first half results, they once again confirm that our strategic focus on consumer health and hygiene is delivering sustainable growth and outperformance. Given our strong half-year performance, and accelerated delivery of Project Supercharge savings, we now expect to exceed the targets we set at the beginning of the year." The group is now targeting full-year like-for-like net revenue growth of +4-5%. Shares in the group opened up 1.3% to 5,984p.
Revenues at meat supplier Cranswick (CWK) have risen 8%in the first three months of its financial year as it registered "strong" volume growth across most product categories. Underlying sales in the first quarter were 4% higher than the same period last year, with corresponding volumes up 7% as the benefit of lower input prices continued to be passed on to the group's customers. "With experienced management at all levels of the group, a strong range of products, a well-invested asset base and a robust financial position, the board remains confident in both the prospects for the current financial year and the continued long term success and development of the business," Cranswick said in the trading statement.
The week ahead
The diary is looking pretty full this week, with a plethora of trading updates, interims and final results for grocery and fmcg players.
Following half-year results this morning from multinational consumer goods group Reckitt Benckiser and premium mixer brand Fever-Tree, tomorrow includes interims from McColl's Retail Group (MCLS) and trading updates from food-to-go specialist Greencore Group (GNC) and high street bellwether Next.
McColl's announced its best-ever set of results in its maiden full-year as a listed company, with revenues exceeding £900m for the first time. However, the market is challenging for the group with growth coming from the expansion of its store base and like-for-like sales down 1.2% in the first 13 weeks of the new financial period.
Fresh from Greggs (GRG) getting an unexpected publicity boost from Hollywood star Jake Gyllenhaal, who professed his love of its baguettes whenever he's in the country, the high street baker will release its first-half figures on Wednesday. Its shares have soared this year as it continued to increase sales – overall and like for like – and profits on the back of CEO Roger Whiteside's food-to-go strategy.
Wednesday also brings half-year numbers from Lucky Strike owner British American Tobacco (BATS), an interim management statement from Tate & Lyle (TATE) and a trading update from pubco Mitchells & Butlers.
Thursday's main area of interest comes from the preliminary results of drinks giant Diageo, which hit the headlines last week after The Wall Street Journal reported that the Smirnoff, Guinness and Johnny Walker owner was being investigated by the Securities and Exchange Commission for alleged channel stuffing. It's been a tough couple of years for Diageo thanks to a slowdown in emerging markets, with analysts expecting a similar set of results as a year ago. Underlying sales growth is widely expected to be broadly flat.
Elsewhere on Thursday is quarter two figures from Cadbury parent Mondelez and interims from can manufacturer Rexam, which is currently in the middle of a takeover process from US rival Ball Corporation.
There are also the latest GfK consumer confidence stats and Nielsen's monthly grocery data due out on Friday.
Last week in the City
Diageo's (DGE) shares on the London Stock Exchange went the same way on Friday as its price in New York on Thursday night: down. The company behind Guinness and Smirnoff took the hit after news broke in The Wall Street Journal about it being investigated by the Securities and Exchange Commission in the US for artificially boosting sales figures. Shares in London fell 2.5% to 1,858.7p after closing 4.2% down at $114.7 in New York.
Friday was also not a good day for Irn-Bru maker AG Barr (BAG), which saw its stock tank 4.3% to 606p on the back of a half-year update which warned of subdued trading.
Premier Foods (PFD) registered another 4.3% drop in its shares to 38.8p – the lowest they have been since the end of January – following on from its first quarter update on Thursday. It puts the stock down 8.3% since it said sales fell 1.6% in the first three months of its year.
At the opposite end of the spectrum, the unstoppable rise of Fever-Tree (FEVR) continued on Friday ahead of this morning's half-year figures. The premium mixer brand climbed another 5.5% to 366p – meaning the shares have more than doubled since January (up 111.9% in the year to date). Shares in the group soared earlier this month after Fever-Tree said in a pre-close update ahead of the half year that sales would rise 61%.