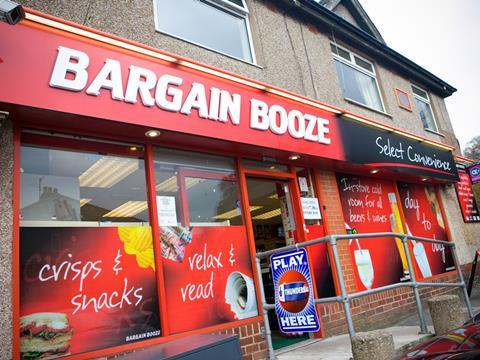 Top story
Bargain Booze owner Convivality (CVR) has posted a 211% jump in first half revenues after its transformative acquisition of Matthew Clark and deals to buy Peppermint and Bibendum.
Sales were up in the 26 weeks to 30 October to £782.5m from £252m in the previous year.
Adjusted pre-tax profit increased 295% to £15.4m in the period, which adjusted EBITDA was up 252% to £22.9m.
The growth was primarily driven by the acquisitions, but the group also reported like-for-like growth of 4.4% "with each business unit trading well".
Its retail operations, consisting of the Bargain Booze and Wine Rack chains, saw sales rise 2.5% during the period. Franchisee like-for-like sales dipped 1.7%, but franchisee margin grew by 1.8%.
Conviviality said some of the new stores brought into the group in March will be converted and refurbished in the second half of the year leading to further expected growth.
It opened 19 stores in the first half of the year, which was slightly down on the prior half as "the focus will always be on quality outlets as opposed to quantity".
Conviviality Direct saw a 5.2% increase in sales, with a 1.5% increase in outlets supplied and a 3.8% increase in revenue per outlet.
Conviviality Trading posted a 5.1% increase in sales and a 47% increase in events sales.
Conviviality also said it performed "well" during the Christmas trading period, with group sales in November and December were 6.1% above the corresponding prior period.
Retail like for like sales in the 6 weeks ending 1 January 2017 grew 2.1% and Conviviality Retail sales increased 6.9%. Conviviality Direct sales increased 6.2% and Conviviality Trading grew 3.1%.
Diana Hunter, CEO of Conviviality, said: "These strong results demonstrate our competitive advantage, the broad customer base we have developed and the robust nature of Conviviality as the UK's leading drinks wholesaler, distributor and solution provider to our customers.
"We have successfully restructured to create three business units Conviviality Direct, Conviviality Retail and Conviviality Trading, each providing our customers and Franchisees with unrivalled range, expert service and advice to meet their customer needs whilst providing our suppliers with unmatched access to routes to market across both the on and off trade.
"The recent acquisitions have resulted in Conviviality being well positioned in its market with a resilient business model that provides unique positioning for its suppliers and customers. We are also pleased to report that the group continues to trade in line with expectations for the full year"
Conviviality shares have eased back 0.5% this morning to 258.75p.
Morning update
Stevia producer PureCircle (PURE) has announced that the US Customs and Border Protection has removed the Withhold Release Order it had placed on the company's shipments into the country.
PureCircle said its trade with its US based customers, which represented one third of the company's sales in its last financial year, can now resume on a regular basis.
Group CEO Magomet Malsagov said: "We understand, and fully support, the CBP's commitment to ensuring that forced labour is never used in the production of any products imported into the USA. We are pleased that this matter has been rigorously investigated and that PureCircle has been cleared by the CBP.
"This experience has only reinforced our commitment to human rights and fair labour practices in any of our markets as well as strengthened our capabilities in providing traceability and transparency as the stevia industry's only vertically integrated natural supply chain."
On the markets this morning the FTSE 100 has dropped 0.8% today already back to 7,126.1pts.
Friday's gloss has begun to come off Tesco and Booker shares after their deal-drive leap, as Tesco (TSCO) has fallen back 2.2% this morning to 202p and Booker (BOK) is 3% down to 206p.
Other major fallers include Diageo (DGE), down 2% to 2,200.5p, Imperial Brands (IMB), down 1.3% to 3,670p and Marks & Spencer (MKS), down 1.1% to 340.3p.
This week in the City
It's another busy week in store following Friday's surprise announcement of Tesco's £3.7bn deal to buy Booker Group.
Tomorrow is scheduled to bring full-year earnings from Ocado Group (OCDO) along with a first quarter update from Britvic (BVIC) ahead of its AGM. Greencore (GNC) will also release its first quarter trading statement for the 13 weeks to 30 December 2016 on Tuesday.
Then on Wednesday Imperial Brands (IMB) will host its AGM, while fellow tobacco firm Altria will issue its fourth quarter earnings release. There is also scheduled to be a Christmas trading update from AG Barr (BAG).
Thursday brings a first quarter trading statement from Compass Group (CPG) ahead of its AGM, while Cranswick (CWK) will issue its third quarter trading statement. In the US, Philip Morris will issue its fourth quarter and full-year results.