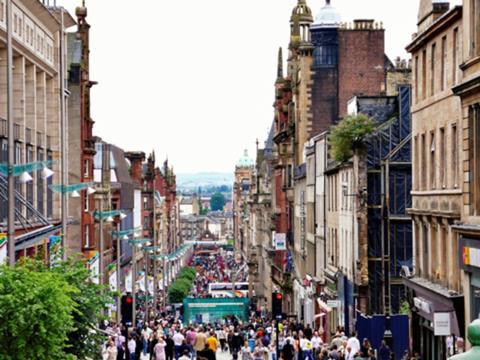 Top story
The number of shoppers on the high street declined for the third month in a row in September in a sign that consumers are starting to tighten their purse strings, new figures have shown.
Footfall in September decreased by 1.2% year on year, the same level as in August, in line with the three-month rolling average of -1.2% and below the 12-month rolling average of -0.4%, according to the BRC-Springboard monthly monitor.
High street footfall declined by 2.2% last month, a smaller decline than August's 2.6%. Shopping centres showed a further decline of 1%, a slightly bigger decrease than in August, which registered a decrease of 0.8%.
Retail parks bucked the trend, registering positive growth, but reduced to 1.1% from 1.6% in August, a 0.5 percentage point reduction.
"September's footfall figures have a sense of unwelcome déjà vu around them," said British Retail Consortium CEO Helen Dickinson.
"For the third consecutive month, most shopping destinations suffered a decline with retail parks continuing to buck the trend; attracting more visitors than the previous year and the opposite being true for high streets.
"There's an urgent need to stall the growing number of retail locations, particularly in more vulnerable parts of the country, falling further and further behind by attracting shoppers to retail destinations with the right mix of products, experience and convenience. But this is where the conundrum lies for retailers: the growing cost of doing business leaves little to no wiggle room for investment in their store proposition."
The East was the only region to see increased growth in September, of 1.9%, and the only region to show high street growth of 0.4 %.
Overall, the deepest decline in footfall in September occurred in Northern Ireland (4.3%) and the South West (2.4%). Greater London decline slowed to 0.9% from 2% in August. Scotland recorded its biggest decline, at 2%, since June 2016.
Diane Wehrle, Springboard marketing and insights director, added: "September's sales rose due to inflation, but the accelerating decline in footfall is a strong indicator of consumers railing back spending.
"Much is often made about the impact of weather, but with similar weather conditions to September 2016, this cannot be put forward as a driver. Aggressive early season sales indicate retailers are spooked, and they will be on edge with the six-week countdown now on to the start of the festive shopping season."
Dickinson said: "With September's RPI expected to be at least four per cent meaning retailers' business rates bills will surge by quarter of a billion pounds in 2018, the prospect of a further investment sapping rise is deeply worrying and will only serve to make things tougher on the high street.
"In his Budget next month, the Chancellor has an opportunity to offer local communities and high streets some much needed respite from risks to local shops and jobs by scrapping next year's rise in business rates."
Morning update
Meat packer Hilton Food Group (HFG) is to proceed with plans to expand its packing capability to New Zealand. Hilton will construct a new meat processing facility in Auckland and supply Progressive Enterprises, New Zealand's leading retailer, trading as Countdown Supermarkets. As Progressive Enterprises is also part of the Woolworths this development further strengthens Hilton's existing relationship with the Australian retailer, the group said in a short statement to the London Stock Exchange.
The development will take place as an extension of the existing site, and is subject to government approvals and the negotiation and finalisation of construction and tenure agreements. Hilton's newly formed subsidiary, Hilton Foods New Zealand, will finance the new food packing facility, with commencement of production targeted for 2020. The new facility will be capable of supplying Progressive stores in New Zealand with a range of beef, lamb, pork, chicken and added-value products. It is expected that Hilton's investment in plant and equipment will be approximately NZ $54m (£29.2m).
Shares in Hilton nudged up 0.4% to 792p as market's opened this morning.
The FTSE 100 has opened 0.1% higher at 7,543.35 points, driven higher by commodity prices.
After big gains last week, Reckitt Benckiser (RB) has fallen back 1.3% to 7,096p. Other fallers this morning include PZ Cussons (PZC), down 1.2% to 325.5p, TATE & Lyle (TATE), down 1.1% to 654.5p, and Britvic (BVIC), down 0.8% to 766.5p.
Greencore (GNC) rose 0.4% to 189.2p, B&M European Value Retail (BME) increased 0.3% to 395.2p and Sainsbury's (SBRY) is up 0.3% to 242.4p.
This week in the City
Tomorrow brings the latest Kantar/Nielsen grocery sales data, with the ONS Retail Sales figures for September to come on Thursday.
And it is a busy week for global consumer giants as Danone, Reckitt Benckiser, Unilever and P&G all report third quarter trading updates, on Tuesday, Wednesday, Thursday and Friday respectively.