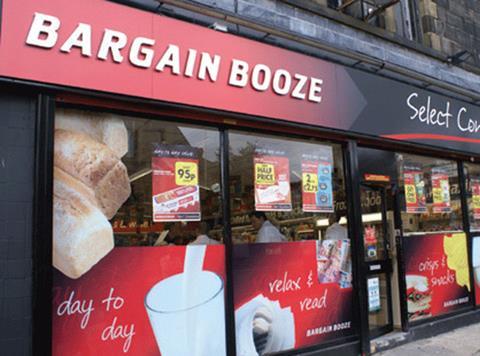 Top story
Conviviality Retail (CVR) has posted a 4.4% rise in pre-tax profits to £9.7m for the year to 26 April, but there is no update today on its pursuit of drinks wholesaler Matthew Clark, which saw its shares suspended from trading on Thursday.
The Bargain Booze-owner's full-year results this morning show a 2.4% increase in revenues to £364.1m and a 3.5% increase in EBITDA to £12.9m.
Like-for-like sales were down 1.7% during the year, but underlying retail sales per store were up by 0.5%.
During the year its store estate increased by 29 (4.9%) to 624 with 21 existing franchisees opening additional stores and 25 new franchisees joining the group.
Chief executive Diana Hunter said: "This is a strong set of results reflecting the hard work of our employees, franchisees and suppliers. Franchisees will remain at the heart of our business, as we continue to work together to blend the entrepreneurial skill of the franchisee with the branding, ranging and wholesale expertise of Conviviality."
Conviviality's shares have been suspended since Thursday morning under AIM rules after The Grocer's enquiries over its involvement in the bidding process for drinks wholesaler Matthew Clark. If successful, the deal would be treated as a reverse takeover as Matthew Clark is the larger firm.
Morning update
The FTSE 100 has opened 0.7% higher at 6,728.6pts as news emerges of an agreement between Eurozone leaders and Greece.
This morning's rise continued the better news on from Friday, when the FTSE rose 1.4% to 6673.4pts on hopes of better news from Greece and share price rises in China.
Some of the beneficiaries this morning include Associated British Foods (ABF) (up 1.2% to 3,130p) and Athens-based Coca-Cola HBC (CCH) (up 1.2% to 1,369p).
Away from Conviviality it's a quiet start to the week for grocery firms, with few other market announcements of note.
AIM-listed Russian food retailer X5 Retail Group has released its first half results for the 6 months ended 30 June. Total net retail sales growth accelerated to 28.1% year-on-year, on the back of a 23.9% rise in net selling space and a 15.6% increase in like-for-like sales.
The week in the City
There's not much in the diary this week to set the pulse racing. The main items of note are dairy Crest's (DCG) AGM tomorrow and Philip Morris' (PM) Q2 results on Thursday and a trading update from Hilton Food Group (HFG) on the same day.
In terms of financial data, the BRC sales monitor for the month is out tomorrow and the ONS CPI and RPI inflation figures are also published.