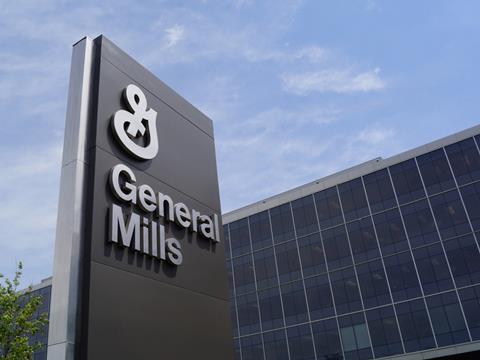 Top story
Sales plunged 5% to $3.8bn (£3bn) at General Mills in the third quarter as the US food giant struggled to adapt to changing consumer tastes.
The Cheerios and Häagen-Dazs maker has struggled, along with rivals Kellogg and Kraft Heinz, as US consumers abandon processed foods for healthier options in greater numbers.
General Mills has broadened its product range into more protein-rich foods and healthy on-the-go snacks in response but the shift has yet to translate into growth.
The group blamed intensifying competition, gaps in pricing and a lack of promotional activity for the slump in third-quarter revenues, which declined more than analysts had expected.
Operating profits plunged 7% to $542m (£434.5m) in the period ended 26 February on smaller margins and higher restructuring charges related to the recent global reorganisation.
"Our net sales declined due primarily to gaps in pricing and promotional activity in key US businesses," said chairman and CEO Ken Powell. "Our cost savings efforts helped us expand our adjusted operating profit margin and drive growth in adjusted diluted EPS. Looking ahead, we are highly focused on improving our top-line performance while continuing to expand our margins.
"We've added support in the fourth quarter to strengthen key business lines, and we're pursuing global growth priorities that will further improve our sales trends beyond fiscal 2017."
Revenues fell 7% to $2.5bn in the North America retail division, which accounts for two-thirds of the group total, as meals & baking and yoghurt sales suffered double-digit declines.
The European and Australia division put in a better performance but was hit by devaluation of sterling. Sales slipped 3% to $424m as growth Häagen-Dazs ice cream, Old El Paso Mexican products, and Nature Valley snacks was offset by the unfavourable currency movements. Profits in the segment rose 25% to $42m thanks to cost saving efforts, which were partially offset by input cost inflation.
Latin America and Asia was flat year on year as favourable foreign currency exchange and growth in Häagen-Dazs were offset by the restructuring of the snacks business in China, the net impact of divestitures and acquisitions and macro-economic challenges in the region.
"Our third-quarter results finished in line with our expectations and keep us on track to deliver the guidance we updated last month," Powell added.
The group expects organic net sales to decline by about 4% overall in the financial year.
Organic net sales are expected to decline approximately 4 percent.
Revenues are currently down 7% for the first nine months of the year $11.8bn, a 5% organic decline.
Morning update
Conviviality (CVR) has announced this morning that Jennifer Laing is to stand down as a non-executive director on 30 April for personal reasons. "The board would like to take this opportunity to thank Jennifer for her time and expertise," a statement to the stock exchange said. "A search for Jennifer's replacement will commence immediately and the company will provide an update as appropriate."
Yesterday in the City
The FTSE 100 slipped 0.7% to 7,378.34 points as the aftershocks of Brexit continue to be felt in the financial markets. The collapse in the value of the pound since the EU referendum last June saw inflation rise to 2.3% in February, the highest level since September 2013.
Fever-Tree (FEVR) has a volatile day, with shares down as much as 7%, despite more than doubling profits and increasing sales 73% in 2016. Investors were skittish on a less robust outlook than usual from the posh mixer brand, which said 2017 was looking "encouraging. However, the stock market darling stabilised towards the end of trading to finish 1% higher at 1,476.3p.
A collaboration with former Great British Bake Off judge Mary Berry couldn't stop shares in Finsbury Food Group slumping for a second day in a row. The stock fell a further 3.8% to 106.8p after its reported flat sales growth and warned of rising costs in Monday's interim results.
Ocado (OCDO) was hammered after a note by Exane BNP Paribas indicated the broker thought shares were overpriced. The online retailer fell 4.8% to 246p.
Greggs (GRG) and Greencore (GNC) were also among the big fallers, down 2.4% to 1,008p and 1.9% to 257.2p respectively.
Marks & Spencer (MKS) climbed 0.6% to 330p, Cranswick (CWK) was also back up 0.3% to 2,442p and Booker (BOK) closed 0.2% higher at 199.9p.
Science in Sport (SIS) put in a good performance, climbing 2.5% to 81p ahead of Thursday's results.